Kerry says rebels rejected Syria ceasefire in 2015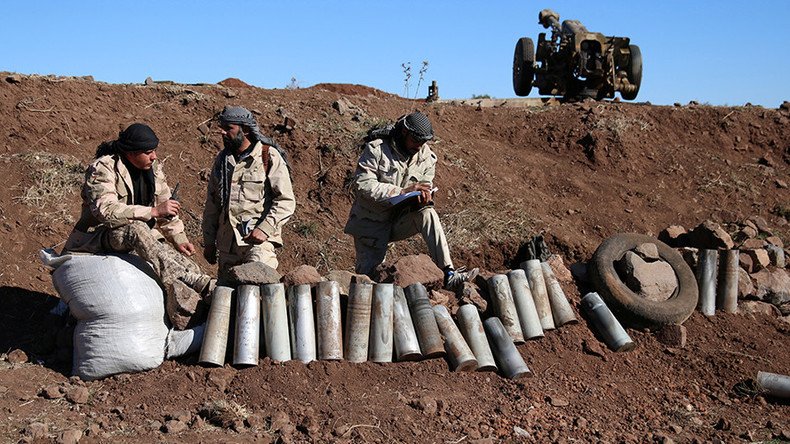 It was rebels who rejected the ceasefire in Syria which was proposed by foreign powers in 2015, US Secretary of State John Kerry revealed Tuesday. He also confirmed there was no agreement on the evacuation of civilians and militants from East Aleppo.
"When we assembled in Vienna … to begin the process of trying to create a political direction for trying to resolve the war, we brought everybody to the table, including Russia and Iran, and we sought a ceasefire," Kerry told reporters, speaking at the NATO ministerial summit in Brussels, Belgium.
He was referring to the International Syria Support Group (ISSG), set up by the US and Russia at the end of October 2015, after Moscow began operations in Syria at the invitation of Damascus. The peace plan proposed by the ISSG on November 14 included a "nationwide ceasefire."
"The opposition would not buy into a ceasefire," Kerry said. "People chose to fight." Since then, "there has been a loss of territory and a loss of life way beyond what any of us wanted to see unfold."
Kerry was answering a question from a Washington Post reporter regarding the recent US-Russian negotiations about evacuating the civilians and militants from the shrinking East Aleppo pocket. Syrian government forces have made significant gains in recent days against the militants, many of whom report to the terrorist group Al-Nusra Front.
Dozens of civilians have died in rebel artillery strikes on government-controlled parts of the city. On Monday, a mortar attack on a Russian field hospital killed two nurses and seriously injured one doctor.
While acknowledging that there have been talks about evacuating East Aleppo, Kerry said that no agreement has been reached on the subject.
"We're not the fighters on the ground. They are. And they have to make their choices," he said of the militants.
Kerry prefaced his comments by telling the reporters that the conflict in Syria was caused by "regime thugs" suppressing young people who were inspired by the "expression of hope" that was the 2011 Arab Spring.
"That is how Syria began, folks," he said. "This is about the rights of people in the country who sought a better life and wanted to demonstrate, and were met with brutality. That brutality led to an increasing insurgency representing the opposition to the Assad regime. Out of that battle grew radicalized entities."
Kerry described Aleppo as "undergoing an unbelievable bombardment, barrage of indiscriminate killing," but shrugged off the possibility of government forces taking control of the entire city as something that "will not change the fundamental underlying complexity of this war."
Rebuilding Syria would take hundreds of millions of dollars and the participation of the "global community," which is unlikely to happen unless there is a political settlement, he told reporters.
You can share this story on social media: