'Cynical & indifferent': Russian MoD slams Red Cross statement on shelling of hospital in Aleppo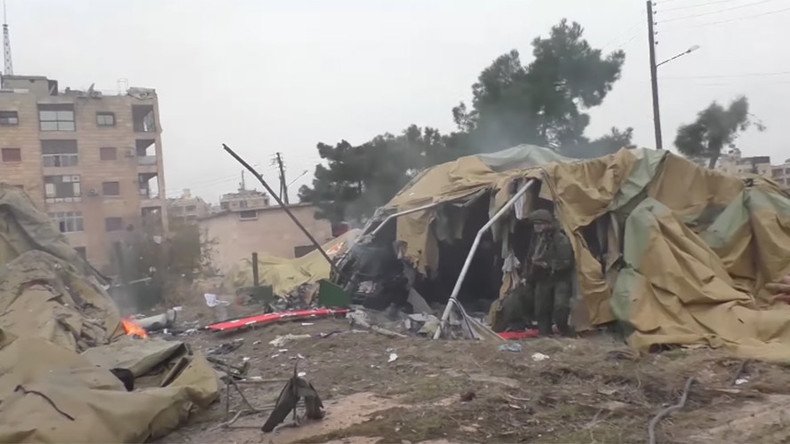 The Russian Defense Ministry has criticized the International Committee of the Red Cross for failing to recognize and condemn a deadly attack on a Russian mobile hospital in Aleppo as the "cold-blooded murder" of medical staff.
On Monday, a mortar shell fired by militants directly hit the reception ward of a Russian mobile military hospital set up in Aleppo, killing two Russian medical staff and wounding another, according to reports.
Several Syrians were also injured in the attacks after about 11 shells landed on the territory of the Russian hospital, the Russian Reconciliation Center in Syria said earlier. An RT Arabic reporter was also injured in the leg by the subsequent shelling of the site.
Following the tragedy, RT requested comments on the shelling from several international organizations, including the Red Cross, which works as the Red Crescent in some part of Syria.
In response to a request from RT, ICRC failed to condemn the attack on the medical facility. It instead said that the bombing of the hospital indicated that "all sides to the conflict in Syria are failing in their duties to respect and protect healthcare workers, patients, and hospitals, and to distinguish between them and military objectives."
Upon hearing the ICRC reaction Maj. Gen. Igor Konashenkov expressed outrage. The Russian Defense Ministry, the general said, hoped for the NGO to condemn the attack but instead, the ICRC just produced a cynical comment.
We received "cynical comments, not worthy of the high status of the International Committee of the Red Cross," that showed "indifference to the murder of Russian doctors in Aleppo," Konashenkov said.
"This is not just a violation of international law by the 'sides of the conflict,' as the ICRC statement reads, it is a pre-planned, cold-blooded murder of doctors by militants," the general said, according to TASS.
"The ICRC, whose president visited the Russian Defense Ministry nearly a week ago, knows perfectly well how Russia helps civilians in Aleppo," he added.
Konashenkov said that the deaths of any medical personnel who provide care for children and the wounded have more than one dimension. According to the general, targeting a hospital is not only a "violation of international law" but a "grave criminal offense."
READ MORE: 2 Russian paramedics killed, 1 gravely injured in militant attack on hospital in Aleppo – MoD
By pure coincidence, an even greater tragedy was averted as buses delivering dozens of Syrian children and their mothers had arrived late to the hospital, according to the spokesman.
Besides the Defense Ministry, the Russian Foreign Ministry has also criticized its western partners after none appeared to condemn the shelling.
You can share this story on social media: