Lavrov: Kerry finally presented proposals on Aleppo in line with Russia's stance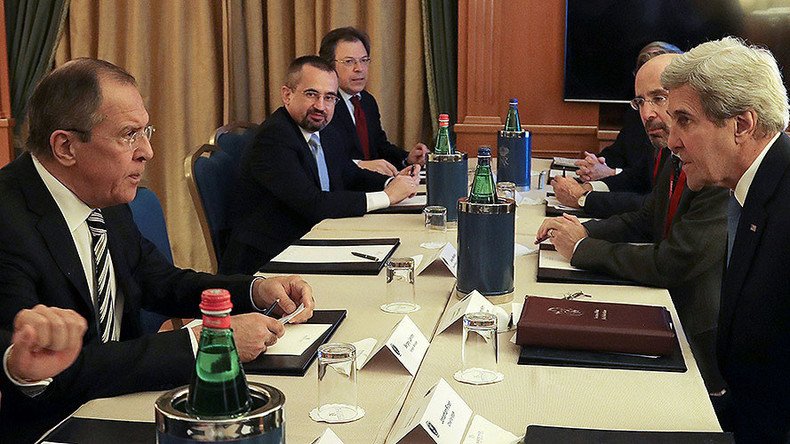 At a meeting in Rome, US Secretary of State John Kerry made suggestions on Aleppo in line with those of Russian experts, Russian Foreign Minister Sergey Lavrov said.
Russia is ready to immediately send military officials and diplomats to Geneva to work out a joint plan of action for Aleppo in line with US proposals, Lavrov said, as quoted by Russian news agencies.
"Moscow is ready to immediately send our military experts and diplomats to Geneva to work out joint actions with our US colleagues in line with the [new] American proposals, which would ensure the withdrawal of all militants without exception from eastern Aleppo, and would provide unimpeded humanitarian supplies to the city's residents and ensure the establishment of normal life in eastern Aleppo," Russian Foreign Minister Sergey Lavrov said on Saturday.
Until Friday, the United States had been doing its best to try to "push provisions that would take the heat off Al-Nusra, which directs the militants in the unliberated parts of eastern Aleppo," Lavrov noted, while adding, "however, yesterday at our meeting in Rome, John Kerry passed on to us proposals from Washington that are in line with the suggestions from Russia's experts."
"It must not be a meeting for the sake of a meeting," Lavrov added. "It is necessary to agree on a detailed timeline of steps."
Moscow hopes to resolve the situation in Aleppo by the end of the year, Russian Deputy Foreign Minister Mikhail Bogdanov said on Wednesday. "We need to force these terrorists out the same way as they need to be forced out of Mosul and Raqqa. It's a common task," Bogdanov stressed, as quoted by RIA news agency.
The US, and especially the Obama administration, is looking for a way out in "political deniability," because the Syrian army is clearly winning in Aleppo, Catherine Shakdam, director of programs at the Shafaqna Institute of Middle Eastern studies, told RT.
"Clearly, the Russian stance in regards to terror and ISIS [Islamic State, formerly ISIL] and the rise of radicalism in Syria was right, and the assessment that Russia made was right on the money," she said.
According to Shakdam, the US is trying to show that it is on the "right side of history".
"The US is looking for the way out, to pretend to want peace, to want democracy, and to be trying to fight for the greater good, which we know it's not," she added.
Damascus' military operation in eastern Aleppo is in full swing, with scores of civilians flooding into government-controlled parts of the city from rebel-held areas. On Tuesday, Russian Defense Ministry spokesman Major General Igor Konashenkov called the advances made by the Syrian army this week "a radical breakthrough." The Russian Defense Ministry reported that over 40 percent of the territory previously controlled by the terrorists and rebel militants in eastern Aleppo has now been freed, liberating over 80,000 Syrians who have been suffering from food shortages and a lack of adequate medical care.
READ MORE: Russia hopes Syria's Aleppo situation can be resolved by end of 2016
Terrorists groups such as Al-Nusra Front have gone to great lengths to prevent civilians from leaving via humanitarian corridors, shooting at them if they attempt to flee and threatening those remaining with execution should they try.
In early October, Washington said it was suspending bilateral cooperation with Moscow, which was aimed at sustaining a ceasefire in Syria agreed upon on September 9, after months of negotiations. The US claimed that it had cut off the contacts because Russia hadn't delivered on a promise to make the Syrian army suspend its military campaign and provide humanitarian access to besieged areas.
The ceasefire suffered a major blow on September 17, when US-led coalition planes struck Syrian military near the town of Deir ez-Zor, killing 83 soldiers.
Several days later, a humanitarian aid convoy on its way to Aleppo was attacked. Moscow has blamed the terrorists on the ground for the incident, while Washington has accused the Syrian government and Moscow.
Russia said cooperation between Moscow and Washington was shattered by those in Washington seeking to settle the Syrian crisis by force. Moscow has repeatedly condemned Washington for failing to separate the so-called "moderate" Syrian opposition, who they support, from terrorists, as was stipulated in September's ceasefire agreement.
You can share this story on social media: