Russia hopes Syria's Aleppo situation can be resolved by end of 2016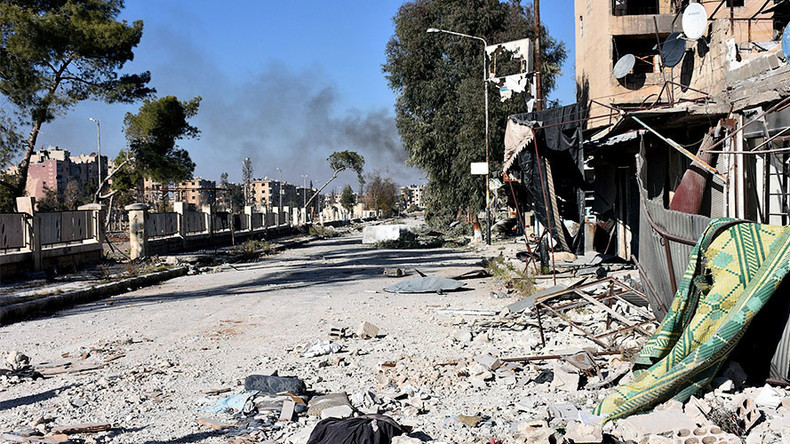 Moscow hopes to resolve the situation in Aleppo, Syria by the end of the year, according to Russian Deputy Foreign Minister Mikhail Bogdanov.
"We are hoping for this, yes, indeed. We need to force these terrorists out the same way as they need to be forced out of Mosul and Raqqa. It's a common task," Bogdanov said on Wednesday, as quoted by RIA news agency.
The high-ranking diplomat had been asked if the situation in Aleppo could be resolved by the end of the year.
This week brought a breakthrough for the Russian-backed Syrian drive to retake eastern Aleppo, allowing humanitarian relief to be brought in to tens of thousands of civilians living in the recaptured districts, according to Russia's Defense Ministry.
"The most important thing is that over 80,000 Syrians, including tens of thousands of children, have been freed. Many of them at long last were able to get water, food, and medical assistance at humanitarian centers set up by Russia. Those Syrians had been serving as human shields for terrorists of all flavors in Aleppo," Russian Defense Ministry spokesman General Igor Konashenkov said on Tuesday.
At the same time, Moscow has pointed out that as little as one percent of UN aid is being directed to Deir al-Zor, the largest city in eastern part of Syria, where at least 200,000 people trapped by Islamic State are in dire need of supplies.
"Most of the humanitarian aid is going to areas controlled by the rebels, including Al-Nusra terrorists, who use it to their advantage," Foreign Ministry spokesperson Maria Zakharova said on Wednesday.
On Monday, the Russian-run Syria Reconciliation Center reported that more than 500 fighters in Aleppo chose to surrender to the advancing Syrian Army.
"Over the past 24 hours, 507 fighters chose to leave the city districts that remain under terrorist control to the safe areas and surrender their weapons. In accordance with the Syrian president's offer, 484 militants, who are local residents, have been immediately pardoned," the statement said.
3,179 people, including 1,519 children – among them 138 newborn babies – have left eastern Aleppo through the 'humanitarian corridors' set up by Syrian government forces, the Russian Reconciliation Center also noted on Monday.
This week, Damascus stepped up its siege on eastern Aleppo, a city that for years has been split between government troops and militant forces. The Syrian Army is targeting Al-Nusra Front and other radical militants. The operation put a strain on the ability of armed groups to prevent civilians from fleeing areas under their control. Previously, some of the terrorist groups controlling eastern Aleppo, like Al-Qaeda off-shoot Al-Nusra Front, used deadly force to stop civilians trying to escape.
Despite the recent military success, the head of the German Parliament's Foreign Affairs Committee Norbert Röttgen and Green Party politician Franziska Brantner called on Berlin to impose more sanctions against Russia over the offensive in Aleppo, and to open an airlift to the militant-held areas, Spiegel Online reported on Monday.
The German politicians cited damage allegedly caused to the city by Russian airstrikes.
Damascus and "its supporters, above all Russia and Iran, bear the biggest responsibility" for civilian suffering in Aleppo, a spokeswoman for the German foreign ministry said on Monday, according to Reuters.
The strikes, according to the Russian military, were paused in mid-October and have not resumed.
You can share this story on social media: