Militants used mustard gas against civilians in Syria – Russian defense experts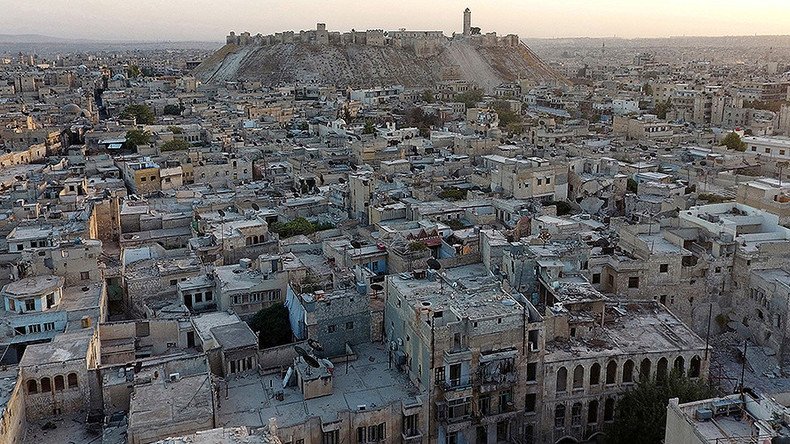 Russian Defense Ministry experts said that a chemical agent that was found in an unexploded mortar shell and later used in a militant attack on a village in Aleppo Governorate, was indeed mustard gas, according to a ministry statement.
On November 16, Russian military experts found an unexploded crude homemade 240-mm mortar shell with a capsule in the rear in the area of Maarat Umm Hawsh village in Aleppo Governorate. The shell was used in an attack on the village on September 16, leaving 40 people injured. It contained a capsule in its rear filled with dark oily liquid.
"An analysis conducted in strict accordance with the [the UN Organization for Prohibition of the Chemical Weapons] OPCW procedure requirements confirmed that the samples [taken from the mortar shell and the shelling site] contained … mustard gas," a statement issued by the Russian Defense Ministry said.
The experts added that the chemical agent is very likely to have been home-made, which could prove that militants in Syria have a streamlined chemical weapons production system.
However, they did not exclude a possibility that the mustard gas and other chemical agents had been imported from third countries, adding that the Defense Ministry has been trying to identify possible channels through which Syrian militants get supplies of chemical weapons.
The findings of the Russian experts as well as the evidence collected at the site of the attack have been handed over to the Syrian National Authority monitoring the implementation of the Chemical Weapons Convention, the Russian Defense Ministry's statement says.
It is not the first case of Syrian militants using chemical weapons against civilians, as recorded by Russian experts. On November 21, the Russian Defense Ministry said that chlorine and white phosphorus had been found in samples from southwestern Aleppo.
Following these findings, Russia addressed the OPCW asking it to send its experts to Syria to participate in sample analysis. However, the UN body demonstrated reluctance to take part in the investigation, citing security concerns.
Russian Foreign Minister Sergey Lavrov criticized the OPCW decision saying that it was "seemingly done under pressure from our western colleagues." Russia is now working on the possibility of delivering the samples for analysis to The Hague, Lavrov added.
"It will make it hard [for them] to back out," the minister said, as quoted by TASS.
You can share this story on social media: