Evidence mustard gas deployed against Aleppo civilians – Russian MoD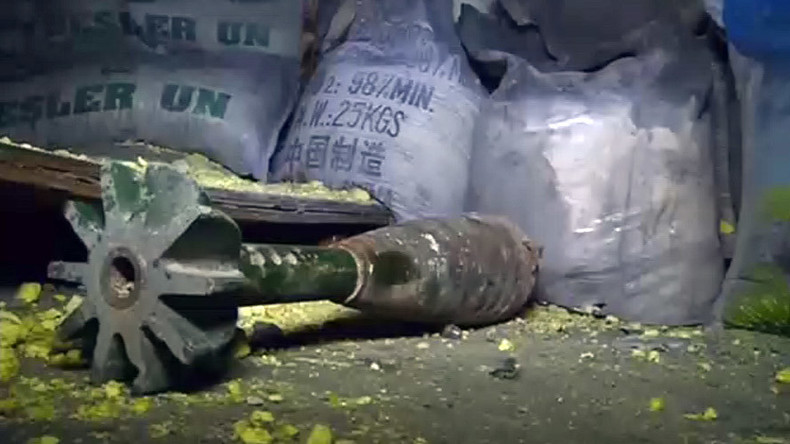 Russian military experts have reported finding new evidence of chemical warfare against Syrian civilians. The Defense Ministry said an unexploded mortar shell uncovered in Aleppo contained mustard gas.
Ammunition containing the chemical agent was reportedly used in a devastating attack on a village in the Aleppo province conducted back in September.
"An express-analysis of the contents [of ammunition] carried out using a portable infrared spectrometer revealed the presence of vesicant chemical warfare agent sulfur mustard. We've taken roughly a 20 milliliter sample from the shell. Afterwards it was sealed tight and delivered to the Russian Centre for reconciliation of opposing sides in the Syrian Arab Republic for further investigation," a representative for Russian Troops of Radiological, Chemical and Biological Defense (RChBD) told journalists.
The recovered chemical round is a crude homemade 240-mm mortar shell, with a capsule in the rear. The capsule contained from 0.5 to 1.5 liters of a black oily liquid, which proved to be a chemical warfare agent.
Over 40 people were injured in the attack they displayed typical symptoms of mustard gas poisoning.
READ MORE: UN chemical watchdog refused to send experts to Aleppo under Western pressure – Lavrov
Russian experts previously produced evidence of chemical munitions usage by militants. On Monday, the Russian Defense Ministry said that chlorine and white phosphorus had been found in nine samples from southwestern Aleppo.
Russia's Defense Ministry the leadership of the UN Organization for the Prohibition of Chemical Weapons (OPCW) "with the demand to urgently send its experts to Aleppo to participate in the sample analysis." The watchdog appeared reluctant to join forces with the Russian military or send independent experts to Aleppo, citing security issues. Some OPCW members seemed to ignore the proposed evidence of chemical weapons. Russia is currently working on delivering samples to The Hague for analysis, according to Russia's FM Sergey Lavrov.
"It will make it hard [for them] to back out," the minister said, as quoted by TASS.
Mustard gas is a WWI-era chemical warfare agent. The 'anniversary' of its first usage will be next year. Mustard gas has been banned since 1923. However, it has been used in multiple conflicts across the century.
WATCH MORE: