Russian 'shelling, execution' videos in Aleppo faked by militants – MoD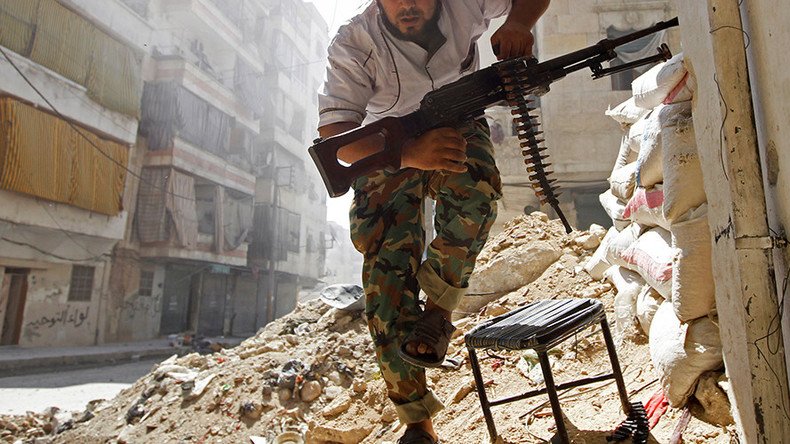 The videos of alleged 'Russia's shelling and executions' as well as other similar footage are fake and were shot by the militants themselves, said Major General Igor Konashenkov, the Russian Defense Ministry spokesman.
"All of the statements by high-ranked Western officials, which cite so-called 'reports by the activists,' as well as 'flicks,' showing alleged 'Russian bombardments,' 'executions' and other stuff are staged videos, produced by special film crews formed by militants," Konashenkov said in a statement Tuesday.
The spokesman said that "it remains a question, why some media outlets were so eager to use them without checking."
"We have some advice for them – don't ever fall for terrorist propaganda," he added.
Konashenkov also rejected Western media claims that 250,000 civilians were trapped in eastern Aleppo and endangered by the government's offensive on the militants.
"The Syrian troops' operation to liberate the eastern parts of Aleppo is successful and humane in every sense in regard to civilians," he said.
"All the dramatized screams, allegedly in defense of '250,000' Aleppo civilians, who were 'left under siege,' mainly on the part of certain representatives of the British and French leadership, are no more than just empty Russophobic rhetoric," spokesman added.
According to Konashenkov, the militants in eastern Aleppo had used around 100,000 people as human shields, who are now out of harm's way.
"At the very first opportunity, they left that enclave and moved to the Syrian government-controlled districts for safety, real aid and food," he said.
With most of eastern Aleppo now liberated, more facts about the shocking conditions which civilians endured under the militants are being revealed.
"The inspections carried out by Russian mine clearance specialists in eastern Aleppo didn't reveal a single school or hospital that had been functioning for its true purposes under the terrorists. All of them were used as command centers, Sharia courts, terrorist rallying points, ammunition depots and underground production centers for manufacturing homemade rockets," the spokesman said.
Konashenkov also said that "no human rights activists, representatives of the 'opposition' or nongovernmental humanitarian organizations, like the White Helmets, have been found in eastern Aleppo."
READ MORE: 'Eerie silence': RT 360 video shows devastated Aleppo neighborhood
"According to civilians, there was only hunger and indiscriminate terror by militants for any attempts to express dissatisfaction or leave the enclave," he said.
The Defense Ministry spokesman also expressed regret that Moscow's calls on Western government and humanitarian groups to send aid to the residents rescued from eastern Aleppo "remained unanswered."
Aleppo has been divided between the government forces and the militants since the start of the Syrian conflict in 2011.
However, in recent weeks, the Syrian Army has made significant gains in eastern Aleppo and is close to liberating it from the militants.
READ MORE: 'They slaughtered my family & told me to go': Heart-wrenching stories of Aleppo orphans (EXCLUSIVE)
The successful offensive allowed thousands of people to flee the area are receive humanitarian assistance from the Russian and Syrian military.
You can share this story on social media: