Media reporting on hacked DNC emails acted as 'arms of Russian intelligence' – White House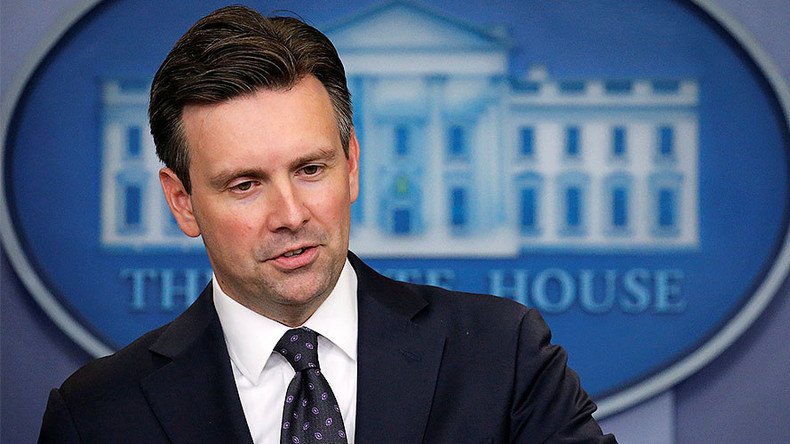 White House press secretary Josh Earnest has accused media outlets which reported on the contents of the hacked DNC emails as being "arms of Russian intelligence," once again accusing Moscow of being behind the cyberattack.
The statement was made during the White House press briefing on Wednesday, in response to New York Times reporter Gardiner Harris, who, siding with the official White House rhetoric, stated that "from the first days, investigators knew it had Russian ties."
Harris then asked why it took until October for Washington to announce it believed the hack was carried out by Russia, when the cyberattack was confirmed in April.
"That delay covered most of the presidential election, causing months of coverage of the leaks that were not properly informed by a formal government statement that this was an act of foreign espionage," he said.
"Wasn't that a mistake to take so long?" Harris asked.
Earnest had a lengthy response to that question, stating that the US intelligence community wanted to have "high confidence" that the Russians were behind the hack before announcing it, and said it wanted to be "as specific as possible in putting forward that assessment."
The press secretary went on to agree with a Wednesday New York Times article which stated that "every major publication, including the Times, published multiple stories citing the DNC and Podesta emails posted by WikiLeaks, becoming a de facto instrument of Russian intelligence."
Continuing his response to Harris, Earnest said "...There's no denying that those materials [emails] were stolen property... there was no denial on the part of the US government that somehow the DNC had not been hacked, so even as news organizations were reporting on this information, they were reporting on information that they knew had been stolen and leaked..."
"...Those are editorial decisions that are made by independent news organizations. But even the excellent report that was included in your newspaper today about this incident makes clear that news organizations in the united states essentially became the arms of Russian intelligence," Earnest said.
However, author and journalist Chris Hedges, who worked for the New York Times for 15 years, told RT that the White House's approach is "clearly a form of red-baiting."
"It is a form of intimidation. It is a way to essentially paint elements of the press, including the mainstream press, as essentially complicit in treasonous activity. It's quite disturbing," he said.
Hedges went on to state that publishing such information is simply "part of the game."
"The question is not whether the information was leaked, the question is whether for instance the Podesta emails are authentic or not. And if they're authentic, you publish them. That's how it works..." he said.
Hedges stressed that there is "no conclusive evidence that Russia was behind the leaks, but even if they were, the US government does this all the time...
"...I was given all sorts of information by the US government to tarnish and in some cases totally discredit figures or regimes that they wanted discredited."
Despite consistent claims by the US government that Russia was behind the hack, not everyone is convinced that is the case. Earlier this week, former US Ambassador to the UN John Bolton suggested the hack could have been a false flag operation by the Obama administration.
Russia itself has dismissed the hacking allegations, as well as claims that it aimed to influence the US election, as "nonsense."
"Does anyone seriously think that Russia can somehow influence the choice of the American people?" Putin asked in October. "Is America some sort of a banana republic?"
In November, Russian Foreign Minister Sergey Lavrov told Italian newspaper Corriere della Sera that the "whole story is from the field of myth-making."
You can share this story on social media: