#ImStillWithHer: Clinton backers praise 'gracious' concession speech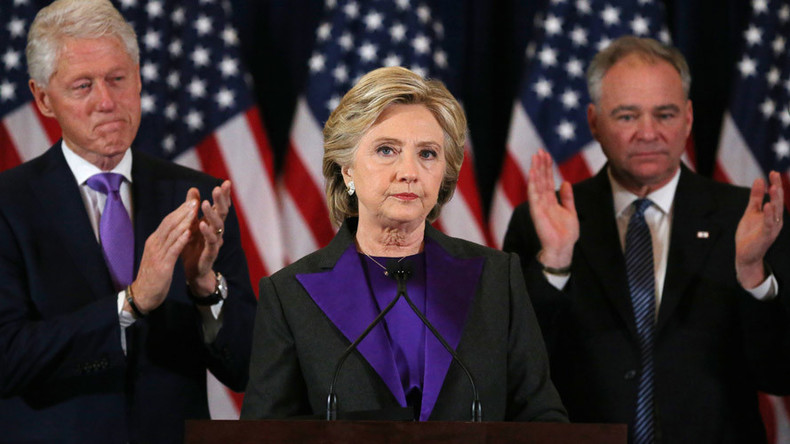 Hillary Clinton signed off on her bid to become US president by reminding supporters "not to lose heart" in a speech which many social media commentators ironically described as the best of her campaign.
As the former secretary of state took to the stage in the New Yorker Hotel's Grand Ballroom, messages of thanks and sorrow had already poured in from her supporters across social media, with the hashtags #ImStillWithHer and #NotMyPresident, referring to Trump, trending on Twitter.
READ MORE: 'I hope he'll be a successful president': Clinton says Americans 'owe' Trump chance to lead
The Democratic candidate spoke of her pain at the defeat to Republican Donald Trump and to call on women to continue the push to shatter the "highest and hardest glass ceiling".
As Clinton wrapped up her second unsuccessful run for the Oval Office, a number of celebrity endorsers and supporters conveyed their sadness at the shock defeat.
British Labour MP Harriet Harman labeled the defeat "tragic" and described Clinton as the "best President the USA never had."
At times Clinton had struggled to galvanize followers through her campaign speeches – something which many said was not a problem with her concession address.
A number of political commentators took to Twitter to praise the former first lady for giving her best speech of the campaign.
Clinton's final address did, however, bring out a small number of detractors.
CNBC's Carl Quintanilla reported that a number of traders on the New York Stock Exchange floor yelled "lock her up" during her downcast appearance alongside running mate Senator Tim Kaine.