'I hope he'll be a successful president': Clinton says Americans 'owe' Trump chance to lead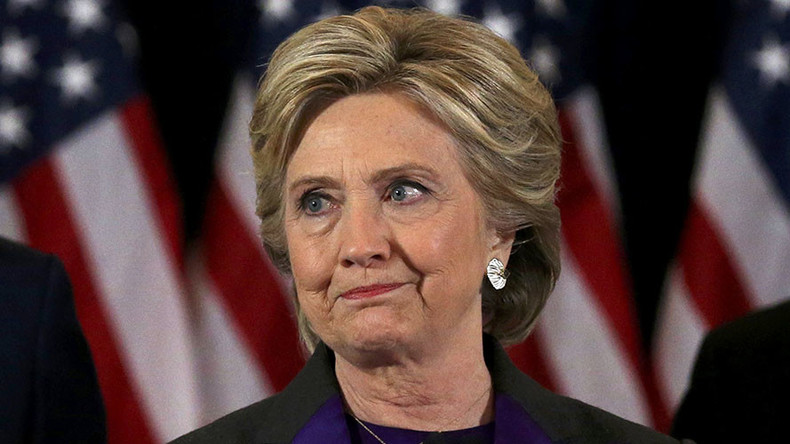 Hillary Clinton says she hopes Donald Trump will be "a successful president" for all Americans, as she stressed it was important to accept the result of the US election. The Democratic candidate was speaking publicly for the first time since losing the presidential race to Trump.
LIVE UPDATES: Trump to become 45th president of the United States
"Last night I congratulated Donald Trump and offered to work with him on behalf of our country. I hope that he will be a president for all of our country," Clinton told a cheering crowd at the Wyndham New Yorker hotel in Manhattan on Wednesday morning.
After apologizing for losing the race for the Oval Office, Clinton called on her supporters to respect the results of the presidential election.
"Donald Trump is going to be our president. We owe him an open mind and the chance to lead," Clinton said, admitting that losing "hurts" and that she feels the disappointment.
Clinton specifically addressed her female supporters, urging them to keep fighting for "what's right."
"To the young women of this campaign, nothing has made me prouder than to be your champion," she said.
Appealing to young voters, Clinton recalled her ups and downs, telling them to never "stop believing."
"Never doubt that you are valuable and powerful and deserving of every chance and opportunity in the world to pursue and achieve your own dreams," she said.
Clinton's close brush with becoming the first female presidential candidate arguably made history this election season, as no woman has ever made it as far in the race.
"We have still have not shattered that highest and hardest glass ceiling. But some day, someone will," she said.
The Democratic candidate lost to Donald Trump, claiming 218 electoral votes versus 276 for her Republican rival.
READ MORE: 'Bind wounds of division': Trump gives victory speech, says Clinton called to concede

"Hillary has worked very long and very hard over a long period of time," President-elect Trump said in a speech after securing victory, also stressing that the nation owes her gratitude for her public service. "I mean that very sincerely," he said.