'Bind wounds of division': Trump gives victory speech, says Clinton called to concede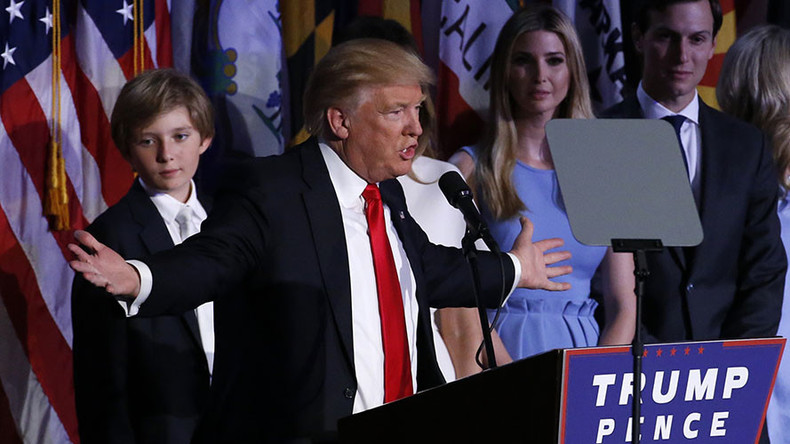 In a speech to his supporters, Donald Trump announced that Hillary Clinton had conceded the presidential election and that he was accepting the victory. He commended her for her hard work and thanked his friends and family.
President-elect Trump took the stage, surrounded by his friends and family. He announced that Clinton had called to concede, saying, "She congratulated us – it's about us – on our victory."
Trump then offered a few kind words for Clinton, saying, "Hillary has worked very long and very hard over a long period of time," and said that the nation owes her gratitude for her public service.
"I mean that very sincerely."
Trump also invited former New York Mayor Rudy Giuliani on stage and said, "America will no longer settle for anything less than the best."
The evening was tense from the beginning when initial results revealed surprisingly small margins in some states, igniting hope and planting doubt in both camps.
As the night wore on the Clinton hall, which was previously filled with prematurely excited supporters and patriotic chants, became sparse as staff retreated behind the scenes for panicked talks.
By the time midnight came and passed, Trump supporters were erupting with joy and shocked Clinton supporters stared at incoming results with tears in their eyes as the party came to a sudden end.
David Coburn, an MEP for the UK Independence Party (UKIP), told RT that like Brexit, the Trump victory is an example of people power.
"Yes, I think this is a revolution; a follow-on to Brexit. This is Brexit 2," he said. "This is where the British told their ruling and political class, their journalistic class where to go. And now the Americans have done exactly the same with Donald Trump. They have told the political class and journalistic class where to go and what they want is less mass immigration, more jobs, lower taxes and they want less government interference in their lives. And that is what the British have said to our ruling class and the Americans have done it to theirs, and a jolly good thing, too!"
Coburn also addressed how Trump has prevailed despite the negative media coverage against him.
"I think they failed because people had enough of them, people see through them," he explained. "This is all about the media trying to get at politicians who are trying to make changes. And the reason is because they are in the pockets of the ruling class, and people have figured that out. That is one of the main reasons why they ignored the press and they have done their own thing."
You can share this story on social media: