Trump aides take over his Twitter account in final stages of campaign – report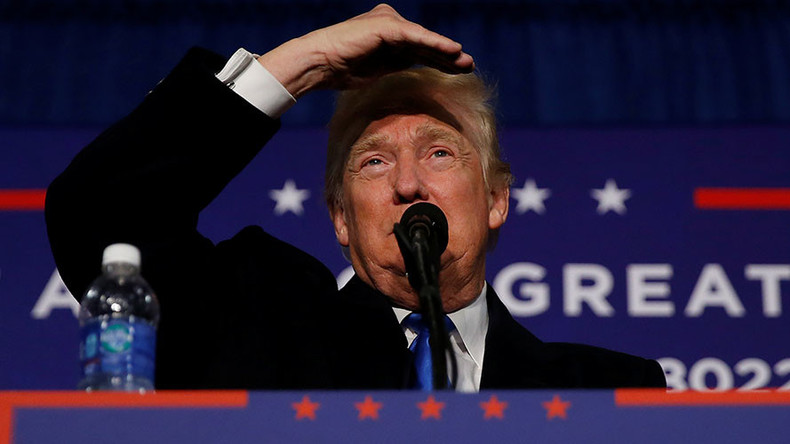 Donald Trump's assistants have taken control of his Twitter account for the final stages of the campaign, according to a report by the New York Times.
FOLLOW RT'S ELECTION LIVE UPDATES
In a report "based on interviews with dozens of aides, operatives, supporters and advisers, many of whom were granted anonymity," the newspaper implies that Trump's Twitter account is now in the hands of his aides, who took control of the last "unfiltered channel for his aggressions."
Trump spokeswoman Hope Hicks is one of those aides, the report claims, with the paper sharing an example of a recent tweet by the Republican presidential candidate.
"On Thursday, as his plane idled on the tarmac in Miami, Mr. Trump spotted Air Force One outside his window. As he glowered at the larger plane, he told Ms. Hicks, his spokeswoman, to jot down a proposed tweet about President Obama, who was campaigning nearby for Mrs. Clinton."
After some editing, Hicks published the tweet, the New York Times reported.
Looking at Air Force One @ MIA. Why is he campaigning instead of creating jobs & fixing Obamacare? Get back to work for the American people!

— Donald J. Trump (@realDonaldTrump) November 3, 2016
President Barack Obama, campaigning for Hillary Clinton in Florida on Sunday, poked fun at the idea of Trump's aides taking over his Twitter.
"Apparently, his campaign has taken away his Twitter. In the last two days, they had so little confidence in his self-control, that they said, 'We're just going to take away your Twitter,'" Obama said at a rally in Kissimmee.
"Now, if somebody can't handle a Twitter account, they can't handle the nuclear codes," Obama added.
Trump has been notorious for his Twitter outbursts throughout his campaign, often provoking anger.
Among the biggest scandals was his 'tweetstorm' against former Miss Universe Alicia Machado, after Hillary Clinton mentioned the 1996 pageant winner in an attack on Trump.
Wow, Crooked Hillary was duped and used by my worst Miss U. Hillary floated her as an "angel" without checking her past, which is terrible!

— Donald J. Trump (@realDonaldTrump) September 30, 2016
Using Alicia M in the debate as a paragon of virtue just shows that Crooked Hillary suffers from BAD JUDGEMENT! Hillary was set up by a con.

— Donald J. Trump (@realDonaldTrump) September 30, 2016
Did Crooked Hillary help disgusting (check out sex tape and past) Alicia M become a U.S. citizen so she could use her in the debate?

— Donald J. Trump (@realDonaldTrump) September 30, 2016
You can share this story on social media: