Top DOJ official gave Clinton chair 'heads up' on email probe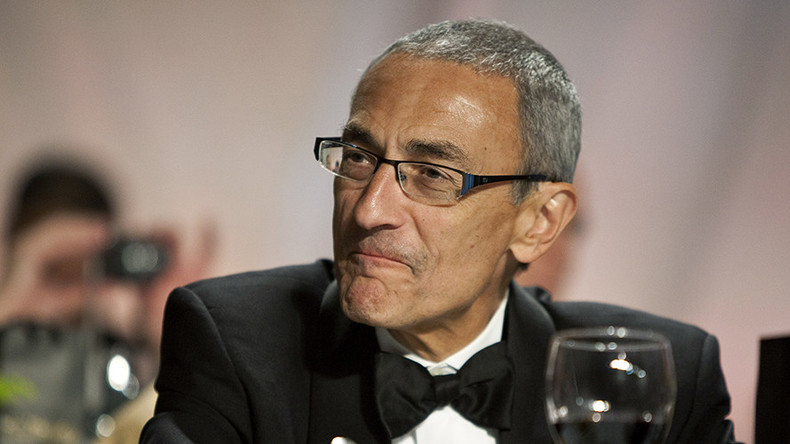 A senior US Department of Justice (DOJ) official tasked with investigating Hillary Clinton's unauthorized use of private email dropped the Democrat's campaign team a "heads-up" on developments in the case last year.
The bombshell comes just days after Assistant Attorney General Peter Kadzik's signature featured on a DOJ letterhead informing senators about a new probe into former Secretary of State Clinton's private server use.
In the wake of the second FBI investigation into the email scandal, Kadzik issued letters reassuring Democratic senators the Department of Justice and intelligence service will "take appropriate steps as expeditiously as possible."
READ MORE: FBI reopens Clinton investigation as new emails found ‒ Comey

His close relationship with the presidential candidate's inner circle is now under scrutiny, however, after it emerged he sent Clinton campaign chair John Podesta an email last year tipping him off about a hearing regarding the long-running case.
In an email leaked by WikiLeaks and dated May 19, 2015, Kadzik sensationally warns Podesta about an "oversight hearing today where the head of our Civil Division will testify."
"Likely to get questions on State Department emails," he adds.
Kadzik also advises: "Another filing in the FOIA [Freedom of Information Act] went in last night or will go in this am that indicates it will be awhile (2016) before the State Department posts the emails."
Podesta then forwards the email to a number of top Clinton aides, including director of communications Jennifer Palmieri, press secretary Brian Fallon and Cheryl Mills, warning them it poses "additional chances for mischief."
The correspondence raises questions over Kadzik's ability to remain impartial during the new investigation. Previous email leaks depict a close bond between Kadzik and Podesta, with Clinton's campaign chair discussing dinner plans both at his home and a popular Washington restaurant.
READ MORE: WikiLeaks releases 26th batch of #PodestaEmails from Clinton campaign chair

Interestingly, Podesta has even credited Kadzik with keeping him out of jail. In 1998, Podesta made use of the lawyer's services during the Monica Lewinsky investigation, Fox News reports.
In a 2008 email to Obama advisor Cassandra Butts, Podesta sings the lawyer's praises, labeling him a "fantastic lawyer," and recommends him for an unnamed job.
William J. Clinton Foundation: This initial release consists of material from the FBI's files related to the Will... https://t.co/Y4nz3aRSmG

— FBI Records Vault (@FBIRecordsVault) November 1, 2016
Kadzik's past would also suggest he has worked closely with the Clinton family before, after he lobbied for tax evader Marc Rich, who was pardoned for his crimes on the last day of Bill Clinton's presidency in 2001.
It comes as the American Center for Law and Justice (ACLJ) filed a lawsuit against the Department of Justice, over an apparent failure to acknowledge FOIA documents concerned with former President Bill Clinton's "secret meeting" with Attorney General Loretta Lynch earlier this year.
READ MORE: Bill Clinton's secret meeting with Loretta Lynch sparks suspicions over Hillary email scandal

The ACLJ, which describes itself as a "constitutional law firm," has accused the Department of Justice of ignoring their request and "unlawfully withholding records."
The group has asked the Department to release "any and all records containing the names of any DOJ official, staff or employee who participated in any discussion" regarding the supposedly "social" chat between former President Bill Clinton and the attorney general.
The meeting at Phoenix Sky Harbor International Airport in June sparked suggestions that the pair had discussed the investigation into Hillary Clinton's emails, something which Lynch later denied.