WikiLeaks releases 26th batch of #PodestaEmails from Clinton campaign chair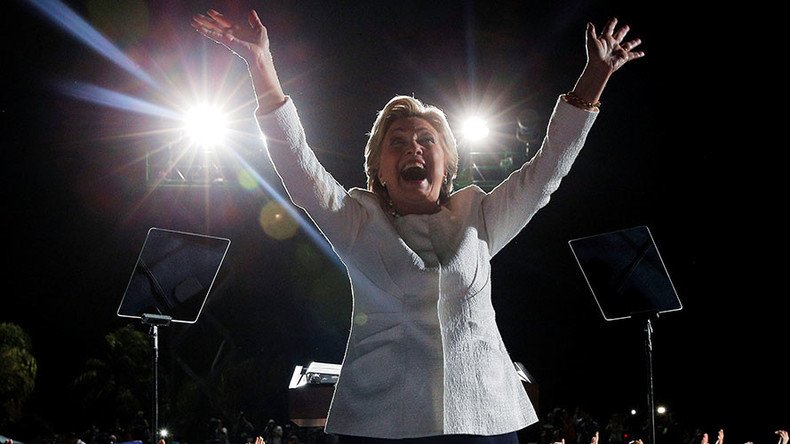 Wikileaks has released a new tranche of correspondence from the hacked email account of Hillary Clinton's campaign chair, John Podesta.
The latest release consists of over 1,100 emails. More than 43,000 emails have now been published by the whistleblowing site, which has pledged to make public a total of 50,000 in the run up to next week's US presidential election.
Tuesday's email release divulged more details on the Clinton team's reaction to her email server scandal and gave further insight into its relationship with the MSM.
'Keep this whole enterprise under wraps'
An email from early September 2008 outlines how Google helped President Barack Obama's transition team to set up 'secure data rooms' for sharing information such as "policy promises, as well as legal documents like expense
reimbursements and contribution forms".
The email from Obama aide Chris Lu, who is currently the deputy secretary of labor, explains how the "data rooms" can be accessed by staff – and emphasizes the importance of maintaining secrecy over their discussions.
"The one thing you should know is that contrary to the log-in
instructions, we're not giving out "transition2008.com" email addresses. We think that would compromise our ability to keep this whole enterprise under wraps," he writes.
The secrecy reminder is somewhat surprising, given the role Citigroup played in picking Obama's cabinet even before the election.
Bill de Blasio labeled a 'terrorist'
"Wow. What a terrorist," Clinton campaign manager Robby Mook wrote in an email on June 10, 2015 regarding New York City Mayor Bill de Blasio after he posted a favorable tweet towards rival Bernie Sanders.
Clinton's director of communications Jennifer Palmieri responded, "Told you", while Clinton aide Huma Abedin suggested contacting him.
Mook responded, "I talked to him earlier today. Clearly he wants to terrorize. Was all wine and roses with me."
DeBlasio ran Clinton's first senate campaign in 2000 and eventually endorsed Clinton for president in October 2015 after earlier refusing to do so.
'In the land of the blind, the one-eyed man is king'
An email thread with the subject title 'Lanny' shows an apparent difference of opinion between Hillary Clinton and her staff regarding Lanny Davis, lawyer and former special counsel to President Bill Clinton.
On May 11, 2015, Clinton senior adviser, Philippe Reines writes: "Hrc is anxious to move forward with the commitment that I will keep him focused and in line. Do you guys need to run any more traps on your end or can I reach out to enlist him?"
Abedin confirms that Clinton called her and said she wants Davis, to which Palmieri responds, "Think we are stuck with Lanny for the brothers".
John Podesta adds his two cents commenting: "In the land of the blind, the one-eyed man is king."
The campaign team's issues with Davis came to light in a previously leaked email from March 2015 where they came down hard on TV remarks he made suggesting a review of her private server.
Bulletproof glass at Clinton's Harlem office
The Clinton Foundation installed bulletproof glass at its Harlem office before the charity moved to a bigger office near Wall Street.
The uptown neighborhood office had been part of the Clinton network since 2001, until the family "expressed the desire" to move from Harlem to Water Street in 2011, leaked emails revealed Wednesday.
President Clinton had previously hailed the area as "human and alive… where no matter how bad it was, people held up their heads and went on."
Despite this, it appears "bullet resistant glass" was deemed a requirement to protect the front reception windows from potential gun fire, an email from Clinton Foundation staffer David Beale reveals.
The email references discussions with the Secret Service about the new foundation offices, saying the protective measure was recommended and an estimate would be sought for their installation.
MSM management 101
Anita Dunn, the former communications director for Barack Obama, gave Podesta advice on how to deal with a persistent New York Times reporter in an email dated October 17, 2008. Podesta had complained to Dunn that journalist Peter Baker was "stalking me… Now wants to talk off the record to waive them [the New York Times] off stuff that's really wrong."
Dunn suggests Podesta try to dodge requests without compromising the pair's apparent friendship. "I don't want you to hurt your relationship with Peter," Dunn said.
She reveals that Obama's campaign team have knowingly allowed false information to run in the NYT to teach reporters a lesson about trust.
"During the campaign we have periodically let the Times put hideously wrong stuff in the paper to teach them lessons about trusting the wrong sources but that doesn't feel right for this particular story," Dunn writes.
'Gifts' to Clinton
Tamera Luzzatto, senior vice president and head of government relations at Pew Charitable Trusts, wrote to Podesta in October 2015 informing him of a meeting she had with Clinton supporters at the office of Democratic congresswoman, Nancy Pelosi.
"Saw John Lawrence at Pelosi's office for a farewell. Pretty terrific to talk to him, John Angell, Jim McGovern, and Phil Schiliro about the Must of HRC as Prez. Xox again, T," Luzzatto wrote.
Luzzatto had served as Hillary Clinton's chief of staff when she was a senator from 2001 to 2009.
Her job description at Pew Charitable Trusts - for whom she was working at the time of her mail to Podesta - reads: "[Luzzatto] ensures that Pew's wide range of nonpartisan policy work at the state, federal and international levels is effectively and accurately communicated to policy makers."
Luzzatto also forwarded emails between herself and Lawrence, Pelosi's former chief of staff, to Podesta, regarding a statement from Republican Adam Schiff. In the statement, Schiff addressed reports a whistleblower was fired because "he would not go along with Republican plans to target Secretary Clinton."
Lawrence wrote to Luzzatto, "These people must be on Hillary's payroll. How many gifts can they possibly deliver to her in one week?"
You can share this story on social media: