FBI reopens Clinton investigation as new emails found ‒ Comey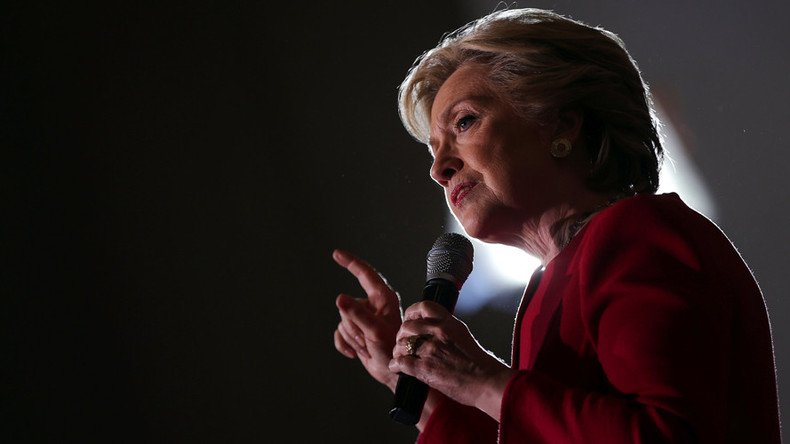 The FBI has learned of more emails involving Hillary Clinton's private email server while she headed the State Department, FBI Director James Comey told several members of Congress, telling them he is reopening the investigation.
"In connection with an unrelated case, the FBI has learned of the existence of email that appear to be pertinent" to Clinton's investigation, Comey wrote to the chairs of several relevant congressional committees, adding that he was briefed about the messages on Thursday. "I agree that the FBI should take appropriate investigative steps designed to allow investigators to review these emails to determine whether they contain classified information, as well as to assess their importance to our investigation."
FBI Director Comey, in letter to members of Congress, says FBI is investigating additional emails in Clinton privat… https://twitter.com/i/web/status/792049409244663809

— (@BraddJaffy) Oct 28 2016
The FBI director cautioned, however, that the bureau has yet to assess the importance of the material, and that he doesn't know how long that will take.
In response to Comey's letter, Hillary Clinton has called on the FBI to release whatever information it has about the newly obtained emails 'without delay.'
"I've now seen Director Comey's letter to Congress. We are 11 days out from perhaps the most important election of our lifetimes, voting is already underway — so the American people deserve to get the full and complete facts immediately," the presidential candidate said at a press conference during a campaign event at Roosevelt High School in Des Moines, Iowa.
"The director himself has said he doesn't know whether the emails referenced in his letter are significant or not. I'm confident whatever they are will not change the conclusion reached in July [when FBI decided against prosecuting Clinton due to lack of grounds]. Therefore it's imperative that the bureau explain this issue without any delay," Clinton stressed.
Following the FBI investigation and interviews with Clinton in July, it was decided she will not be prosecuted as there was not sufficient evidence to indict her. James Comey at the time called Clinton "extremely careless," but said there were no grounds to prosecute her. Clinton noted that the FBI had not yet contacted her with regard to this new information, and that therefore she was unaware what facts became known to the bureau that forced it to reopen the investigation against her.
"We have not been contacted by anyone. First we knew about it is, I assume, when you knew about it, when this letter sent to Republican members of the House was released. So we don't know the facts, which is why we are calling on the FBI to release all the information that it has," she urged once more.
FBI Dir just informed me, "The FBI has learned of the existence of emails that appear to be pertinent to the investigation." Case reopened

— Jason Chaffetz (@jasoninthehouse) October 28, 2016
Representative Bob Goodlatte (R-Virginia), chair of the House Judiciary Committee, praised the decision to reopen the case.
"Now that the FBI has reopened the matter, it must conduct the investigation with impartiality and thoroughness," he said in a statement. "The American people deserve no less and no one should be above the law."
Almost 15,000 new Clinton emails were discovered in September, but it's unclear if the announced investigation relates to them or other correspondence. The newly discovered emails are not related to Wikileaks or the Clinton Foundation, law enforcement sources told CNN's Evan Perez.
The messages were not found on the private email server in the Clintons' New York residence, a government source told Reuters.
The emails were apparently discovered as part of the sexting probe into former Representative Anthony Weiner (D-New York), the New York Times reported. His electronic devices, as well as those belonging to his wife, senior Clinton aide Huma Abedin, were seized during that investigation.
House Speaker Paul Ryan (R-Wisconsin) renewed his call for Director of National Intelligence James Clapper to "suspend all classified briefings for Secretary Clinton until this matter is fully resolved."
"Yet again, Hillary Clinton has nobody but herself to blame," Ryan said in a statement. "This decision, long overdue, is the result of her reckless use of a private email server, and her refusal to be forthcoming with federal investigators."
Kellyanne Conway, Republican nominee Donald Trump's campaign manager, applauded the decision.
"That is superb. That is extraordinary news for the American people," she told Yahoo News. "A great day in our campaign just got even better," she tweeted.
"They are reopening the case into her criminal and illegal conduct that threatens the security of the United States," Trump said in Manchester, New Hampshire, 10 minutes after learning about the reopening of the case. "We must not let her take her criminal scheme into the Oval Office."
"I have great respect for the fact that the FBI and the Department of Justice have the courage to right the horrible mistake that they made," he said. "This was a grave miscarriage of justice that the American people fully understand, and it is everybody's hope that it is about to be corrected."
"With that being said, the rest of my speech is going to be so boring. Should I even make the speech?" he joked before turning to his prepared remarks.
The "FBI reopening investigation isn't an October surprise, it's an October nuclear explosion," conservative political commentator Ben Shapiro wrote as part of a tweetstorm, adding that "Comey [is] trying to cover his a** 11 days before [the] election" and wondering if a "pre-emptive impeachment of a president elect" is possible because "the odds on President Tim Kaine just rose substantially."
An 'October Surprise' is a major event that happens in the month before the election that affects the outcome of the vote.
Fear:
F. False
E. Evidence
A. Appearing
R. Real

— Donna Brazile (@donnabrazile) October 28, 2016
In response to the announcement, the Democratic Coalition Against Trump filed a complaint with the Department of Justice against Comey.
"It is absolutely absurd that FBI Director Comey would support Donald Trump like this with only 11 days to go before the election," Scott Dworkin, senior advisor to the Democratic Coalition Against Trump, said in a statement. "It is an obvious attack from a lifelong Republican who used to serve in the Bush White House, just to undermine her campaign. Comey needs to focus on stopping terrorists and protecting America, not investigating our soon to be President-Elect Hillary Clinton."
Stocks fell after Comey's announcement, CNBC reported.
You can share this story on social media: