Weiner gets shafted: Clinton confidante Huma Abedin ditches sexting spouse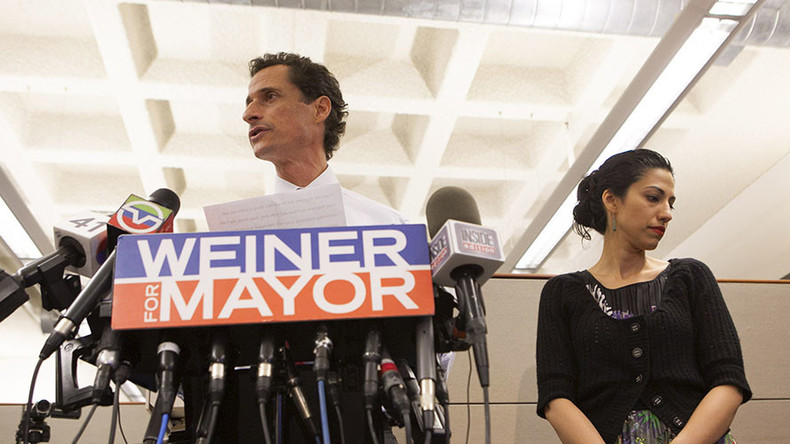 Carlos Danger is finally free to tweet pictures of his package without marital repercussions. Huma Abedin, a senior aide to Democratic presidential nominee Hillary Clinton, is leaving former politician Anthony Weiner after several sexting scandals.
The last straw for Abedin, 40, appears to have been revelations that her husband, 51, sexted another woman a photo of his crotch with the couple's now-4-year-old son in bed next to him.
On Sunday, the New York Post published a gallery of texts between Weiner, who has used the nom de plume of Carlos Danger in previous sex-capades, and a brunette divorcee in her 40s.
The sexual exchange occurred shortly after 3:00am on July 31, 2015, a screenshot showed.
"Someone just climbed into my bed," Weiner wrote.
"Really?" she responded.
He then sent an image of his torso, brandishing a bulge beneath his white boxer-briefs ‒ and his son next to him.
"You do realize you can see you[r] Weiner in that pic??" the woman wrote.
Weiner then realized he may have posted the image in a public place ‒ the same bone-headed mistake that brought down his congressional career in 2011. At that time, he and Abedin had been married about a year, and she stood by her man through the sex scandal, which was followed by another episode of electile dysfunction amid Weiner's campaign to become the mayor of New York City.
A day after the New York Post's revelations, Abedin announced that she was finally ready to leave her husband.
"After long painful consideration and work on my marriage, I have made the decision to separate from my husband," Abedin said in a statement Monday morning. "Anthony and I remain devoted to doing what's best for our son, who is the light of our life. During this difficult time, I ask for respect for our privacy."
Abedin is in the midst of a political scandal herself, albeit of a more traditional nature. She is one of the aides at the heart of the matter when it comes to Clinton's use of a private email server during her time as secretary of state.
Republican presidential nominee Donald Trump, who is from New York, praised Abedin's decision.
"Huma is making a very wise decision. I know Anthony Weiner well, and she will be far better off without him," he said in a statement.
Trump also repeated his attempts to tie Weiner to Clinton's emails through Abedin.
"I only worry for the country in that Hillary Clinton was careless and negligent in allowing Weiner to have such close proximity to highly classified information," he said. "Who knows what he learned and who he told? It's just another example of Hillary Clinton's bad judgment. It is possible that our country and its security have been greatly compromised by this."
He made similar accusations exactly a year ago, referring to Weiner then as "one of the great sleezebags [sic] of our time" and "a perv."
Trump repeated bizarre attack on Huma today. Lots of married men worked at State, why is Huma the one who would pass on secrets to spouse?

— Jennifer Palmieri (@jmpalmieri) August 29, 2015
The Clinton campaign, which defended Abedin from Trump in 2015, has yet to issue a statement about the separation or its rival's accusations.
You can share this story on social media: