'Not a good system': Clinton aide frustrated by private email server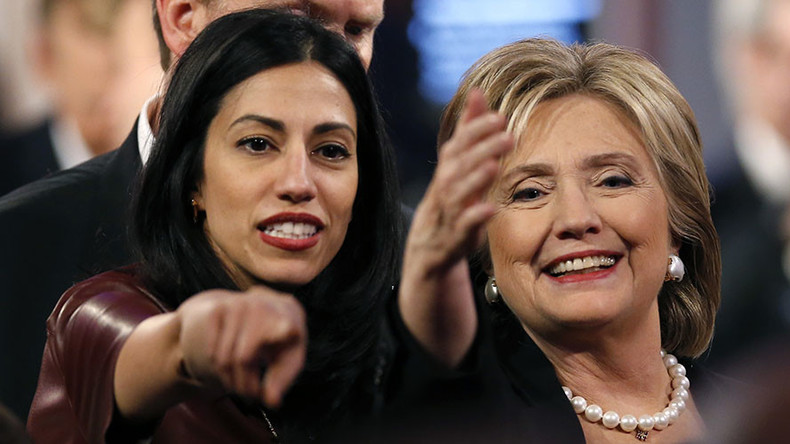 Hillary Clinton's long-time aide Huma Abedin has admitted that on at least one occasion the former secretary of state's private email server got in the way of conducting government business, according to a deposition transcript.
"I remember there being instances where we had, you know, communications issues," Huma Abedin told Judicial Watch lawyers during a six-hour deposition under oath, according to a transcript released Wednesday.
"She wasn't able to do her job, do what she needed to do."
One of the instances where this happened was in 2010, when Clinton missed a phone call with a foreign diplomat, because an email confirming the call went to Abedin's spam folder.
Abedin's deposition was part of a "limited" discovery granted by the court at the request of Judicial Watch, a conservative watchdog group looking into the use of Clinton's server and department records practices.
"She seems frustrated because she's not able to do her job," Abedin testified, according to The Hill. "I seem frustrated back because I'm not – I couldn't define to you exactly what that meant."
Abedin was deputy chief of staff to Clinton when she served as secretary of state, and is now the vice chair of her presidential campaign. She is one of several former State Department officials who are being deposed by Judicial Watch.
In an email about the incident, Abedin told Clinton that they should "talk about putting you on state email or releasing your email address to the department so you are not going to spam."
Clinton dismissed the suggestion at the time.
"Let's get [a] separate address or device but I don't want any risk of the personal being accessible," Clinton wrote, according to Bloomberg.
Abedin, one of a handful of aides who had an account on the clintonemail.com server, replied that the missed communications were "not a good system."
That incident did not lead to Clinton abandoning the personal account and moving to a state.gov email address.
"I don't recall any response other than once the system was back up and running, that was it – we just proceeded with business the way it was before," Abedin said.
Judicial Watch lawyers repeatedly pressed Abedin to explain Clinton's concern that her emails might become public, but Abedin said what Clinton meant by "the personal" was not wanting her private personal emails being accessible.
"I would imagine anybody who has personal email doesn't want that personal email to be ready by anybody else," said Abedin.
Clinton's private server contained tens of thousands of work-related emails as well as private messages, and by using her personal server for both, she kept control of both types of correspondence. Clinton turned over nearly 33,000 business-related messages to the State Department, while disposing about an equal number of personal messages. Clinton failed to turn over three dozen work-related emails, according to the agency.
Later, Abedin told Judicial Watch lawyers she was not aware that Clinton personally deleted any emails during her tenure as secretary of state, according to the Associated Press. The top aide also said she never searched or was asked to search for documents in her State Department or private Clinton email accounts in response to requests or lawsuits under the open records law.
A review of all requests to the State Department during that period found several requests specifically for copies of Abedin's emails on a variety of subjects, including her husband, disgraced former congressman Anthony Weiner.
"Did you ever search, were you ever asked to search your state.gov email account in response to a FOIA request of FOIA litigation?" lawyer Ramona Cocta asked.
"I believe I said no," Abedin answered.
Judicial Watch filed the civil suit, because it was interested in Abedin's simultaneous employment with the State Department, the Clinton Foundation and a consultancy that catered to international clients, according to Bloomberg. They sued the State Department under FOIA in 2013 to obtain access to records regarding Abedin's employment.
On Monday, Judicial Watch released a cache of emails between Abedin and Clinton, which the group's president, Tom Fitton, said showed that Clinton "did not turn over all" records in her possession and raised questions about what other records should have been produced.
Among the emails was one showing Clinton early in her tenure as secretary of state, concerning records management practices.
"I have just realized I have no idea how my papers are treated at State," Clinton wrote to Abedin in March 2009. "Who manages both my personal and official files?"
In another disclosure about campaign tactics, released to the Smoking Gun website by the hacker Guccifer 2.0, who claims to have successfully breached the gmail account of Clinton volunteer Sarah Hamilton.
Those emails show that Clinton campaign staffers on at least two separate occasions identified and tracked the movement of so-called troublesome campaign reporters and tried to keep them away from the Clintons. Under surveillance were a reporter from CNN and a French journalist attending a February Nevada rally with Bill Clinton and Chelsea Clinton.
You can share this story on social media: