Weiner caught still sexting after Twitter scandal cost him job in Congress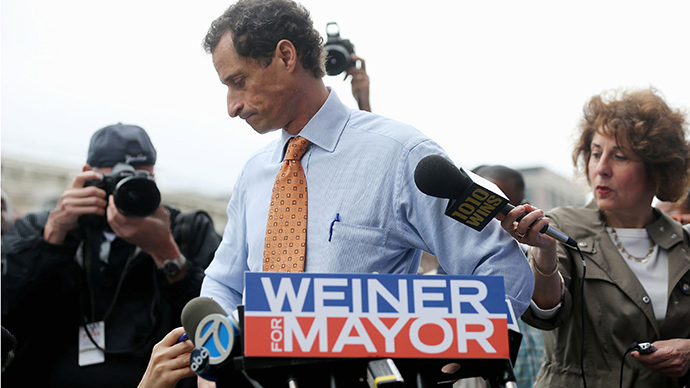 Well, Anthony Weiner is at it again.
An anonymous woman has laid claims that the former congressman and current New York City mayoral candidate sent her sexually explicit messages and lewd images over the Internet more than a year after similar behavior gave way to a high-profile scandal that eventually forced the Democratic lawmaker to resign from office in disgrace in June 2011.
Weiner addressed the allegations in a statement issued Tuesday and admitted that some of the claims made by the anonymous source are not inaccurate. Now more than two years after Weinergate came to a close, the current contender for mayor of New York City could once more opt to abandon hopes of being elected to office.
Gossip website TheDirty.com reported Monday that a woman claims to have had a steamy back-and-forth with Weiner through August 2012, more than a year after the former lawmaker admitted wrongdoing and first attempted to clear his name.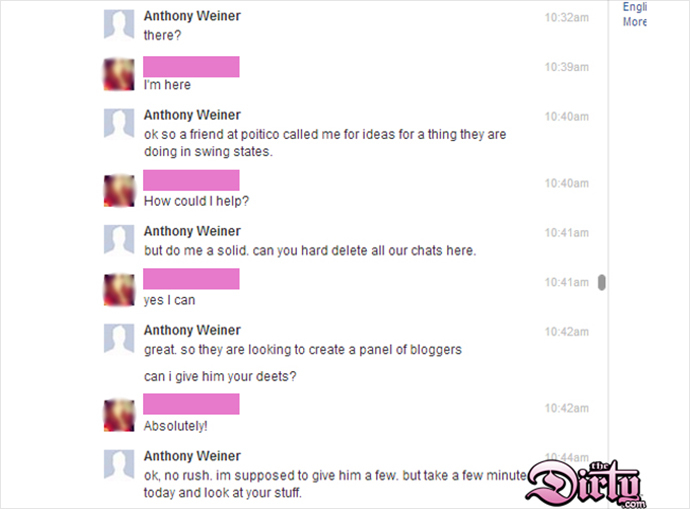 The woman, who said she was 22 at the time of the conversations, has supplied the website with screenshots that she attests show dialogues between her and Mr. Weiner last summer in which they discussed plans for an x-rated romp and even a potential internship at the newspaper Politico and a condo in Chicago.
Nik Richie, the editor and founder of TheDirty.com, wrote that the relationship lasted for six months and the woman "believed they were in love."
"The part that's most annoying is that I was 22 and in a bad place, but if anyone asked him he would say the same thing about himself, yet he's an adult," the source told Richie. "This was a bad situation for me because I really admired him. Even post scandal, I thought he was misunderstood. Until I got to know him. I thought I loved him. Pretty pathetic."
"I've found the perfect woman. Gorgeous, sexy and like a bit of my crazy," Weiner allegedly wrote in one of the few family-friendly screenshots that have been supplied to the website.The two apparently used the platforms Facebook and Formspring to communicate.

In a statement made during a Tuesday afternoon press conference, Weiner admitted that aspects of the conversations between him and the anonymous source occurred before and after he resigned from Congress.
"I said that other texts and photos were likely to come out, and today they have," Weiner said. "These things that I did were wrong and hurtful to my wife and caused us to go through challenges in our marriage that extended past my resignation from Congress.''
"While some things that have been posted today are true and some are not, there is no question that what I did was wrong," Weiner's statement said. "This behavior is behind me."
"I want to again say that I am very sorry to anyone who was on the receiving end of these messages and the disruption that this has caused. As my wife and I have said, we are focused on moving forward," added Weiner.
Should the latest scandal fail to subside, it would link Weiner to another sexual escapade at a time even worse than last. Weiner is currently seeking to replace New York City Mayor Michael Bloomberg in this fall's election, and according to recent polls was the most favored candidate among possible democratic contenders. Rep. Weiner was eyeing a run at the mayor's office only two years ago, though, before news surfaced that he had sexually explicit conversations with a number of women while serving as a congressman for New York. He eventually walked away from the political limelight until opening up to The New York Times this past April.
"I don't have this burning, overriding desire to go out and run for office," Weiner told the Times. "It's not the single animating force in my life as it was for quite some time. But I do recognize, to some degree, it's now or maybe never for me, in terms of running for something."
"Also, I want to ask people to give me a second chance. I do want to have that conversation with people whom I let down and with people who put their faith in me and who wanted to support me. I think to some degree I do want to say to them, 'Give me another chance,'" he told the paper.
Weiner, 48, married Huma Abedin in 2010, and the couple has one child together.
You can share this story on social media: