Weiner the frontrunner: Democrats back disgraced congressman in NYC mayoral race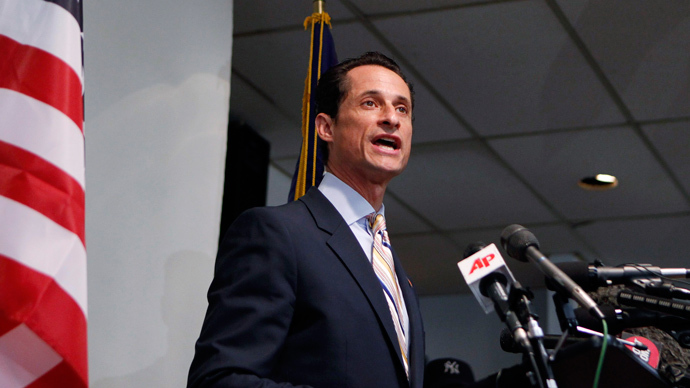 Anthony Weiner is looking more likely than ever to win the New York City mayoral race scheduled for later this year. According to the latest polls, the former congressman is the top contender among Democratic Party hopefuls.
Weiner, 48, announced last month that'd he be seeking the position of mayor of New York, a role which will be vacated by Michael Bloomberg when his third and final term expires at the start of 2014. Now only four weeks after officially throwing his hat in the race, Weiner is winning the support of 25 percent of registered Democrats, according to a just released poll conducted by Wall Street Journal-NBC New York-Marist.
The news puts Weiner at the top of his party's race for the first time since he confirmed in May the long-standing rumors he'd be running for mayor, but the ex-lawmaker will likely face a battle through Election Day that's largely uphill. Even if Weiner is winning the support of a quarter of his party, the high-profile scandal that prompted his resignation from the United States House of Representatives in 2011 is still fresh on the minds of voters.
Rep. Weiner was already eyeing the New York City two years ago when he was caught sending graphic photographs to women over Twitter. At first Weiner relentlessly denied allegations that he acted inappropriately, but after several weeks took responsibility and resigned from Congress.
When Mr. Weiner announced he'd be running for mayor last month, he said, "I made some big mistakes, and I know I let a lot of people down, but I also learned some tough lessons."
"I'm running for mayor because I've been fighting for the middle class and those struggling to make it my entire life. And I hope I get a second chance," he said.
Before Weiner confirmed he'd be running for mayor, a March 2013 poll found that less than half of the city's Democrats would even considering voting for the disgraced congressman. According to the latest numbers, though, Weiner is now the frontrunner, grabbing 25 percent of support among Democrats to the runner up's 20 percent. City Council Speaker Christine Quinn, the party's frontrunner up until recently, now has only one-fifth of her party's support.
"Things are changing – the race has been scrambled by Weiner's candidacy," Lee Miringoff, director of the Marist College Institute for Public Opinion, told the Wall Street Journal. "Weiner's candidacy has gotten more acceptable to voters since he announced, (and) Quinn's having a difficult time reversing what has been a slow but steady decline in her numbers."
Speaking to the New York Times earlier this year about his Democratic contenders, Weiner said, "I like them all." In the same interview, though, Weiner took a jab at one stance in particular adopted by Quinn that doesn't sit well with him. In 2008, Quinn supported removing a term limits law, which as a result allowed Mayor Bloomberg to successfully campaign for a third term in office.
"The term-limits thing, as an issue, was a deal breaker for me," Weiner told the Times in April. "But, I think the polls are right: Chris Quinn is leading, and then someone will get into a runoff with her. I don't like runoffs, and I don't think we should have them so you don't have these divisive primaries anymore."
According to the latest poll, Weiner and Quinn are being trailed by Comptroller Bill Thompson with 13 percent of the party's support, followed by Public Advocate Bill de Blasio and city Comptroller John Liu. Fewer than one in five Democrats are undecided, the poll found.
"This won't change our focus one bit," a spokesperson for Mr. Weiner told the Journal. "Anthony is going to keep talking about the issues and how to stand up for New Yorkers who want a middle class fighter in City Hall."
Mike Morey, a spokesman for Ms. Quinn, told the New York Times, "We fully expect the polls to fluctuate throughout the campaign, but we are confident that on Election Day, when voters have to decide who they want to lead this city, they will choose someone who has demonstrated the ability to lead and deliver."
You can share this story on social media: