Weiner gets it up on Twitter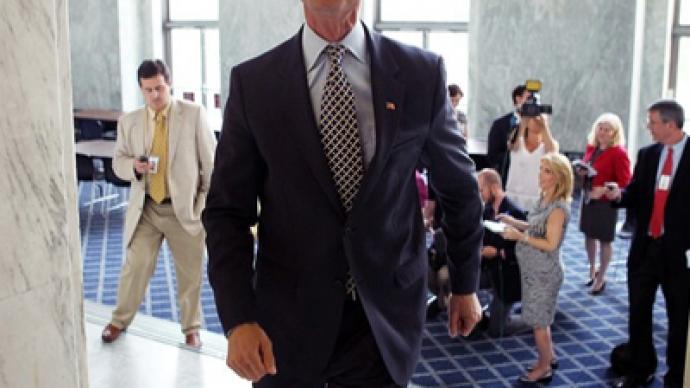 Democratic Congressman Anthony Weiner may or may not have posted a picture of his namesake on Twitter, but one thing is for sure, he definitely follows and interacts with a lot of beautiful women online.
Models, hot college girls and porn stars abound in the list of people Weiner follows on the social networking site Twitter. The Congressman follows only 198 people – most of which are attractive young females, many dressed scantily clad. The New Yorker has recently been battling a scandal, an image was sent from his Twitter account that showed a close up shot of an erect penis hidden behind tight boxer briefs. Weiner claimed his account was hacked, but he refuses to deny the wiener is not his, and also refuses to deny he took or ever posted the image. The image was posted via a cell phone to Weiner Twitter account and directed at Gennette Cordova, a 21-year-old attractive female college student in Seattle that Weiner follows. The image was visible to all of his followers however, all 49,500 plus of them.In press interviews Weiner remains elusive about the image and where it originated. In fact, he refuses to answer any direct questions on the matter. He has called the issue a distraction, and wishes to move on. But, that is not good enough. Many want answers. Weiner's lack of transparency and elusive nature has many curious. The Congressman's insistence that he was hacked is possible, but he refuses to allow the hack to be investigated by police. Many assume that his refusal to answer questions or allow the incident to be investigated is evidence he is hiding something. Weiner boasts a known playboy past. His exploits are not hidden unknown; the man became famous for dating frequently and parading beautiful women around the capital. In fact, Vanity Fair once reported he pursued attractive congressional workers, on once case just days after the 9/11 terrorist attacks. In 2008 he sponsored a bill to grant 1,000 visas to beautiful foreign models and has publically conversed with porn stars on Twitter – among the many other models and college girls he actively follows. Most have nothing to do with politics, and many do not even live within Weiner's congressional district.The Congressman appears to follow the woman for their partying lifestyles and attractive pictures, since there appears to be little other reason to follow them. In fact, most of them were highly surprised when Weiner began to follow them on Twitter. Nicole Aquino – known on Twitter as @puccaxpink – recently told the New York Post she was "not in politics" and could not understand why the congressman asked to follow her. Aquino is a nurse from New Jersey with an attractive Twitter photo icon. She followed Weiner; he then noticed her profile and contacted the woman. "He Tweeted me back asking if I thought it was all right if he could follow me. I was flattered he wanted to follow me back," she recalled. Porn star 'Miss Ginger Lee posted on her Twitter raving messages about Twitter conversations she and the Congressman had had. "He thanked me for the shout-outs and said he likes my blog. (I died a little inside…in a good way.)," she Tweeted.Latter she also Tweeted, "You know it's a good day when you wake up to a DM from @RepWeiner. (I'm a fangirl, y'all, he's my trifecta of win.)"At one point Weiner was allegedly following a high school girl, who asked him to take her to her prom. The Congressman appears to no longer be following the girl.Many had assumed that following his wedding last year to Huma Abedin that his playboy ways had changed. Some are not beginning to question that assertion. The Congressman's elusiveness has many questioning his honesty and integrity. This latest sex-oriented scandal may be the undoing of Weiner unless the facts are made clear sooner than later.
You can share this story on social media: