Sex Scandal! GOP Congressman resigns after seeking women on Craigslist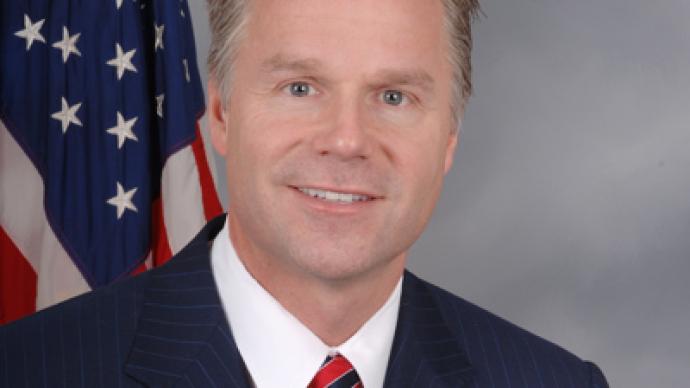 Married Republican US Congressman Christopher Lee from New York is a lobbyist and a "fit, fun, classy" divorced man seeking women for fun, according to Craigslist.
According to gawker.com the pro-family, anti-gay and anti-abortion Lee corresponded with a 34-year-old woman who put up an ad on the "Women for Men" section of Craigslist personals. The ad read, "Will someone prove to me not all CL [Craigslist] men look like toads?" and asked that men who are "financially & emotionally secure" reply.Emails were passed by way of Lee's personal Gmail account, the same one connected to his Facebook page which he has now deleted. In the exchange the Congressman identified himself as 39-years-old, divorced and a lobbyist. He was happy to include a photo of himself. In reality, Lee is 46, married and has a son!Upon receiving the email, the unidentified 34-year-old woman who is also a government employee apparently liked what she saw, and requested a more revealing picture. Lee complied and included a topless photo to display his muscular physique.
After prodding by gawker.com reporters, Lee claimed his email had been hacked, citing an email he sent to his staff regarding a security breach. However, according to gawker.com, the evidence indicates otherwise since the date of the email about the security breach does not-line up with the supposed hack. A spokesperson for Lee told gawker.com, "The Congressman is happily married."All in all, the conversation was mild compared to most Washington sex scandals. But, one thing is apparent, lying and cheating are alive and well in DC.
UPDATE: Congressman Christoper Lee has resigned from office. He released the following statement:"It has been a tremendous honor to serve the people of Western New York. I regret the harm that my actions have caused my family, my staff and my constituents. I deeply and sincerely apologize to them all. I have made profound mistakes and I promise to work as hard as I can to seek their forgiveness. The challenges we face in Western New York and across the country are too serious for me to allow this distraction to continue, and so I am announcing that I have resigned my seat in Congress effective immediately."
You can share this story on social media: