Bill Clinton's secret meeting with Loretta Lynch sparks suspicions over Hillary email scandal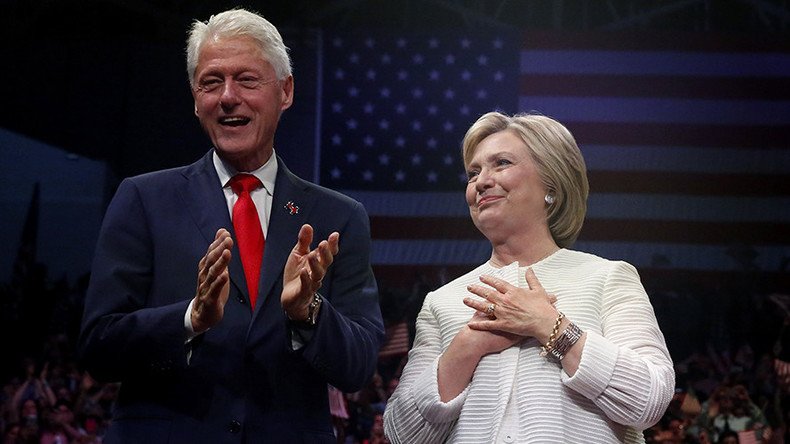 Hillary Clinton's husband and former President Bill Clinton met with Attorney General Loretta Lynch on her private plane on Monday evening, sparking suspicions that the two discussed Hillary's email server investigation, although Lynch denies this.
The Justice Department and the FBI are investigating the presumptive Democratic presidential nominee's use of a private, personal server during her time as secretary of state, and rumors of an indictment before the general election continue to circle.
The two met on board Lynch's plane at Phoenix Sky Harbor International Airport and had a private meeting that spanned about 30 minutes, ABC15 reports.
Clinton was at the airport to board a flight but when he learned that Lynch was on her way to the airport, he decided to wait for her.
When asked about the unorthodox meeting at a press conference, Lynch described the conversation as being largely about grandchildren and said it "was primarily social, about our travels and he mentioned golf he played in Phoenix."
The meeting took place hours before the House Select Committee's Benghazi report was made public.
"There was no discussion on any matter pending before the department or any matter pending with any other body, there was no discussion of Benghazi, no discussion of State Department emails, by way of example I would say it was current news of the day, the Brexit decision and what it would mean," Lynch told the press conference.
Lynch was appointed US attorney for New York's Eastern District by Bill Clinton in 1999, and was made attorney general under Barack Obama in 2014.
Clinton aides explained the unscheduled visit as a "courtesy" that he extends to dignitaries, reported CBS, who also pointed to the fact that Bill Clinton and the Clinton Foundation are "tangentially involved" in the investigation and described the "appearance of impropriety" as "stunning."
You can share this story on social media: