#PodestaEmails23: WikiLeaks releases new mails from Clinton chair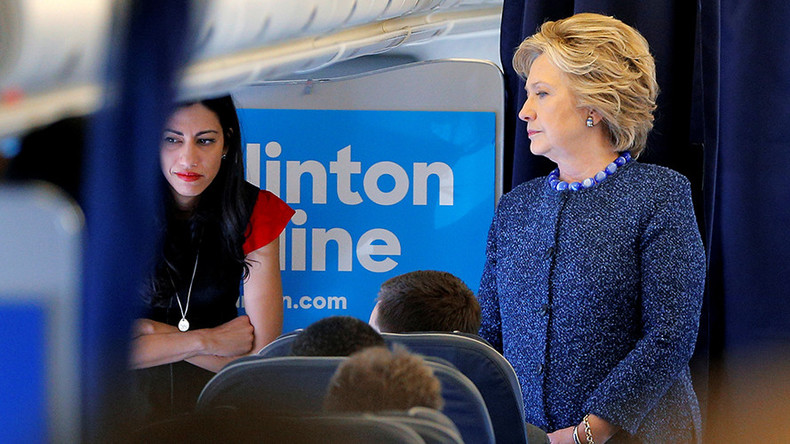 The 23rd batch of emails from the account of Hillary Clinton's campaign chair, John Podesta, have been published online by WikiLeaks.
More than 36,000 emails from Podesta's account have been released by the whistleblowing site, which has vowed to publish a total of 50,000 emails before the US presidential election on November 8.
On Saturday, the emails revealed comments from Clinton adviser Neera Tanden, in which she expressed her lack of faith in the Clintons' judgement, as well as concerns from Hill columnist Brent Budowsky, who has featured prominently in the leaked emails, regarding the suitability of her candidacy.
READ MORE: 'Bill & Hillary have the worst judgement': Close adviser slams Clintons in latest Podesta leaks
'Some of the people around her are dumber than bird sh*t'
Emails from The Hill columnist and Hillary Clinton supporter Brent Budowsky written to Podesta in September 2015 express concern over Bill Clinton's lack of visibility in the campaign.
"If it wasn't important enough for him [Bill] to do compared to other things he is doing, shame on him," Budowsky notes, before harshly criticizing Clinton campaign staff: "[S]ome of the people around her – not you but others – are dumber than bird sh*t when it comes to modern public opinion and modern politics."
Budowsky goes on to accuse some Clinton staff of treating her as a cash cow, and claims that US President Barack Obama held an "incredible jealousy" towards Bill Clinton.
"There are some people now working for her who consider her a profit center for their income and not a cause or a mission that they believe in. They almost certainly carry with them an incredible jealousy that Obama has always harbored towards Bill Clinton and a condescending attitude towards Hillary Clinton."
The columnist also suggests that the best way for Clinton to tackle possible Democratic primary rivals US Senator Bernie Sanders and US Vice President Joe Biden is for her to become "more authentically populist, not as far as Bernie but much more so than she has been."
"As for Bill, he should have been a visible presence all along, he is the great validator in American politics, the Babe Ruth of national politics when almost all other politicians, including Hillary, are widely distrusted... Bill is the closest to a recognizable model of the kind of president Americans would be happy with in 2016," Budowsky adds.
Podesta replies to the queries about Bill at one point by saying that the plan all along was to "start using him in the late fall."
'Compromised technology' in China
In an email exchange between Chelsea Clinton and Podesta released Sunday, the two are writing to arrange a group meeting and go on to discuss technology and security concerns when traveling in China.
Podesta explains that his email replying to the meeting scheduling efforts is late because "I was in China and not accessing this account for security reasons."
Chelsea replies: "Our technology was all compromised while we there (if we've time, I'll regale you with rather hilarious anecdotes of our tour guide cum spy). Hope you had a great trip."
'Biden will get in'

As recently as September 2015, Hillary Clinton campaign Chairman John Podesta apparently had serious doubts about Clinton's chances of winning the Democratic nomination.
An email dated September 6, 2015 to Clinton adviser Neera Tanden highlights Podesta's concerns about Clinton's chances of success, adding to a string of emails from Clinton's staff in which they questioned her judgment and ability to secure the nomination.
"Biden will get in. We are still way more likely than not to win nomination. We've taken on a lot of water that won't be easy to pump out of the boat," Podesta wrote.
"Most of that has to do with terrible decisions made pre-campaign, but a lot has to do with her instincts. She's nervous so prepping more and performing better. Got to do something to pump up excitement but not certain how to do that," he continued.
Tanden's reply to Podesta suggests one approach would be for Clinton to take on a 'battle' that is authentic to her, proposing drug companies.
"Of course I'd love it to be Wall Street. But that means being on endless calls w gene which I have little stomach for. But she hates (or at least used to hate) the drug companies and people know she's been into health care for a long time."
Podesta, however, didn't feel like that technique alone would be enough, replying, "I don't think that will get people to feel like she is their cause."
Just weeks later, on October 21, 2015, US Vice President Joe Biden announced that he would not run for president.
'She doesn't have Obama speech skills'
Sunday's email release include a thread among Clinton aides discussing her "speech skills". In the June 13, 2015 exchange, Tom Nides, Clinton's deputy secretary of state for management, praises a speech recently given by Clinton.
Podesta responds: "Bumpy ride to get there, but great result."
Nides then follows up by writing: "It was perfect. Good OBAMA stuff, good checking box on issues, good personal and great tv pictures. She doesn't have OBAMA speech skills but she doesn't need to."
It's not clear exactly which speech or appearance the exchange refers to, as Clinton gave an NBC interview as well as a public address in Cleveland that day in which she spoke about the mass shooting at a gay nightclub in Orlando, Florida the night before.
READ MORE: Mass shooting at Orlando gay nightclub
You can share this story on social media: