Mass shooting at Orlando gay nightclub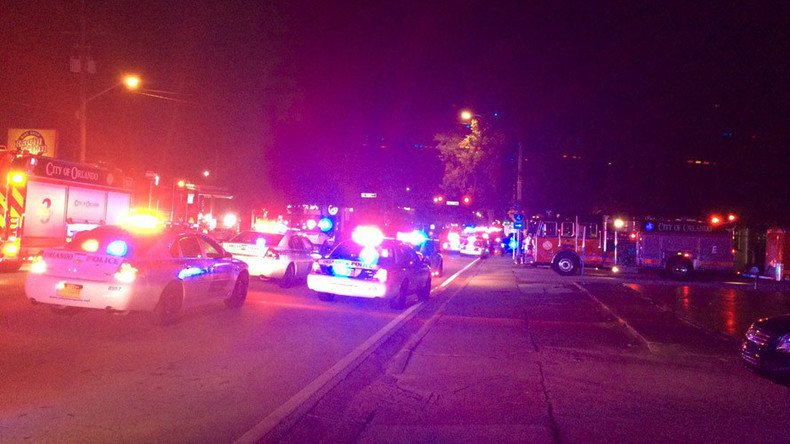 15 June 2016

20:49 GMT

Dallas Mavericks owner Mark Cuban has made a $1 million donation to the Dallas police department for "enhanced counterterrorism efforts," including increased police presence in the Oak Lawn neighborhood, WFAA-TV reported Wednesday.

The money will be used for approximately 16,000 hours of overtime for the Dallas PD, said Mayor Mike Rawlings.

"These funds will be used primarily to protect the LGBT community," said Dallas PD chief David Brown. "We will earmark and track the expenditure of these funds to ensure its effective use in creating a safe environment."

20:34 GMT

Orlando attacker Omar Mateen was "administratively dismissed" from his job at the Martin Correctional Institution in April 2007, after bringing a gun to work, Palm Beach Post reported citing a source at the Florida Department of Corrections.

02:13 GMT

Shortly after the massacre, some experts criticized the slow police response to the situation, stressing that quick action is vital in mass shootings.

An expert on active-shooter tactics, Chris Grollnek, who is a retired police officer and SWAT team member, told the Associated Press that "action beats inaction 100 percent of the time."

However, as the editor-in-chief of the law enforcement resource website PoliceOne, Doug Wyllie, told RT, Orlando law enforcement acted within protocol, potentially saving more lives.

"Things can change very quickly," he said. "That's precisely what happened in the wee hours of Sunday morning. As soon as the shooting stops and you are given information that there is a hostage situation, active penetration into the site is not recommended. In fact, you potentially jeopardize the lives of those hostages if you try and conduct that continued active shooter response."

"What you then have is a hostage situation that requires a lot of negotiation, communication, discussion among the teams," Wyllie added.

14 June 2016

23:03 GMT

Federal prosecutors have called a grand jury in order to bring charges against Omar Mateen's wife, Noor Salman, for being an accessory to 49 counts of murder and 53 counts of attempted murder, failing to report a planned terror attack, and lying to the FBI agents, Fox News reported, citing the agency's source.

The unnamed source has also said that Salman is likely to be arrested.

22:54 GMT

21:29 GMT

Reporters in Orlando are apparently trying so hard to get a comment from law enforcement officers, the police is warning them to back off.

MEDIA: OPD officers you're still pursuing are prohibited from speaking with you and after being bombarded at their homes, don't want to.

— Orlando Police (@OrlandoPolice) June 14, 2016

21:00 GMT

St. Lucie County Sheriff Ken Mascara confirmed that the Orlando shooter Omar Mateen was one of the guards working at the courthouse in 2013, but was reassigned following a complaint about inflammatory comments.

New statement from St. Lucie County Sheriff Ken Mascara on Orlando shooter, Omar Mateen: t.co/aoJnjZNn43

— Joshua Chavers (@JoshuaChavers) Jun 14 2016

18:13 GMT

President Obama called the Orlando killer an "angry, disturbed young man who became radicalized" by "extremist propaganda from the internet."

"Their propaganda, their videos are pervasive, and more easily accessible than we want," Obama said, speaking after a regular meeting with senior US officials to discuss the ongoing terror war.

Attacks by lone actors or small cells are "very hard to detect and prevent," the president said. "Across our government, federal state local, we are doing everything we can to stop these attacks. An attacker only has to succeed once. Our law enforcement have prevented many attacks and saved many lives. Despite the extraordinary hard work, something like Orlando can occur."

16:21 GMT

Noor Mateen, wife of the Orlando nightclub attacker, is "cooperating with investigators," NBC News reported.

She told the FBI she was with Mateen when he bought ammunition and a holster, and admitted driving him to the Pulse nightclub on one occasion, the network reported citing officials familiar with the case said.

Authorities are considering filing criminal charges against Noor for failing to warn the government about the attack, but no decision has been made yet, NBC News said.

16:03 GMT

The Orlando nightclub shooter was executing the wounded, one of the survivors told reporters at the hospital press conference.

"He was shooting everyone who was already dead on the floor, making sure they were dead," said Angel Colon, who was shot in the hand and the hip.