'We have a problem': Podesta emails reveal Clinton staffer fears over Wall St speeches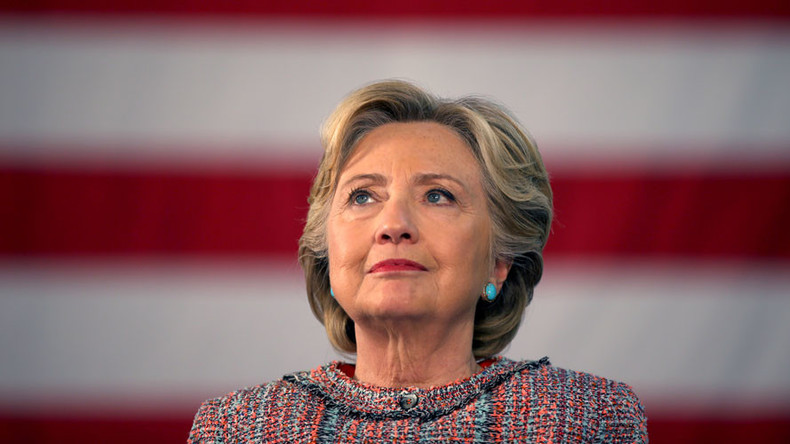 WikiLeaks' latest release of emails from Hillary Clinton's campaign chairman John Podesta has given some insight into the former secretary of state's connections to Wall Street and how the campaign used certain media outlets to mislead the public.
The emails contradict the campaign's assertions that Clinton's paid speeches to Wall Street have not had any affect on her politics.
A November 2015 email chain between Clinton staffers discussed her Wall Street speeches. "Following up on the conversation this morning about needing more arrows in our quiver on Wall Street, I wanted to float one idea," says speechwriter Dan Schwerin.
"In October 2014, HRC did a paid speech in NYC for Deutsche Bank," Schwerin continues. "I wrote her a long riff about economic fairness and how the financial industry has lost its way, precisely for the purpose of having something we could show people if ever asked what she was saying behind closed doors for two years to all those fat cats."
"Perhaps at some point there will be value in sharing this with a reporter and getting a story written. Upside would be that when people say she's too close to Wall Street and has taken too much money from bankers, we can point to evidence that she wasn't afraid to speak truth to power," he adds. "Downside would be that we could then be pushed to release transcripts from all her paid speeches, which would be less helpful."
According the emails, AP was writing a story about Clinton's Wall Street problem at the time. "Lisa Lerer [AP journalist] plans specifically to note that her paid speeches to banks were closed-press affairs, and transcripts are not available. She is asking if we wish to characterize her remarks in any way," Clinton press secretary Brian Fallon says.
"I think we could come up with a vanilla characterization that challenges the idea that she sucked up to these folks in her appearances," Fallon writes. "But then use AP's raising of this to our advantage to pitch someone to do an exclusive by providing at least the key excerpts from this Deutsche Bank speech."
"In doing so, we could have the reporting be sourced to a 'transcript obtained by [news outlet]' so it is not confirmed as us selectively providing one transcript while refusing to share others."
Democratic adviser Mandy Grunwald replies that it wasn't a good idea as "the remarks below make it sound like HRC DOESN'T think the game is rigged – only that she recognizes that the public thinks so. They are angry. She isn't."
Grunwald goes on to point to the danger of drawing attention to Clinton's speeches, due to an existing Politico report on her Goldman Sachs speech, in which she says "people shouldn't be vilifying Wall Street."
An earlier Podesta leak revealed Clinton misled the public about why she voted for the Bankruptcy Bill, after being accused of doing so because of her financial ties to the credit card companies by Senator Elizabeth Warren.
Clinton claimed she did so because "women's groups" wanted her to.
A February 7 email from Clinton campaign staffer Ann O'Leary reads, "We have a problem. HRC overstayed [sic] her case this morning in a pretty big way. Marcia, Judy and I have been figuring out what we could say that doesn't contradict their 2001 statement. But my other idea is to have women Senators who all voted for it to put out statement."
"She said women groups were all pressuring her to vote for it. Evidence does not support that statement," O'Leary says.
On Wednesday, it emerged that Schwerin emailed Jennifer Palmieri, Clinton's director of communications, about how to handle the Wall Street speech controversy and rival Bernie Sanders in an upcoming speech.
READ MORE: 'Helpful' media & Sanders 'lies': WikiLeaks releases 4th batch of Podesta emails