Driven out: Muslim family relocates to Pakistan after Islamophobia in N. Carolina (VIDEO)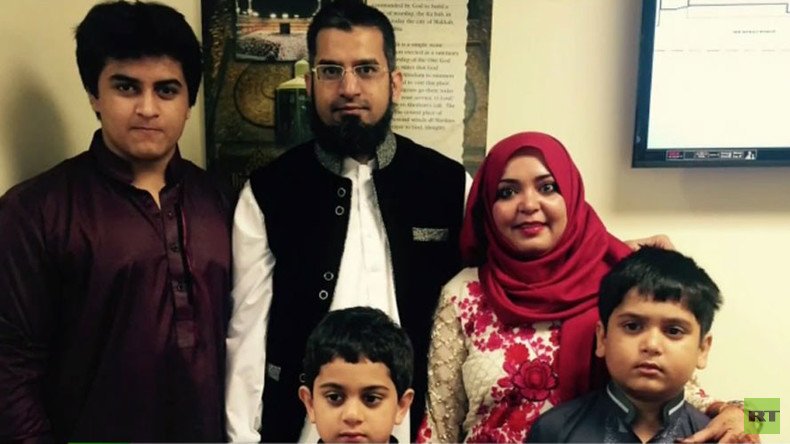 Counter-terrorism computer scientist Zeeshan Usmani and his family had enough of the United States after several threatening incidents of Islamophobia in North Carolina, he told RT, and have moved to Pakistan, where their security is not guaranteed.
First-grader Abdul Aziz, the third and youngest son of Zeeshan Usmani and Binish Bhagwanee, stepped off the school bus in Cary, North Carolina, on October 7 bruised and beaten. He told his parents that five of his classmates made fun of his name, tried to make him eat food that was not halal, then beat him in the face, stomach, and arm while chanting "Muslim," said Usmani, a Pakistani man who has two Fulbright scholarships and has worked to counter terrorism recruitment in his professional work.
"So as soon as he get out of the bus, he was beaten, he was bruised, he wasn't' talking much — a lot of pain in his hand. So we gave him some pain medicine," Usmani told RT America. "He said that one of his fellow passengers (on the bus) came to him and asked him why he wouldn't eat certain food."
Usmani said his son has been asked about his diet before, and Usmani told him those questions are about curiosity and not personal. Yet those kind of questions led to the encounter on the bus.
"Five of them start beating him up. So they're slapping on his face, kicking his chest and stomach … twisted his arms … and threw away his backpack."
Weatherstone Elementary School, where Abdul goes to school, sent a letter to parents on October 13 claiming an "investigation does not support an altercation. … No students who were interviewed witnessed an altercation. The bus driver did not witness an altercation." The town of Cary issued a statement saying the "police department has been coordinating with the school system to uncover details related to this matter. At this time, nothing has been found, and no police report has been filed."
Usmani, currently the chief technology officer at Quarrio, told RT that he received an email from the school's principal the day after the bus incident, to which he replied with a detailed account and photos of his son's experience, including the names of the children responsible. But he never heard back from the principal until October 17, he said, and they scheduled a meeting for the next day.
"There were other parents at the school bus stop as well, and they all saw my son come in that shape," he said. "So they called the school and they called the police as well" to report the incident. He said he asked the principal to give him the video from the bus surveillance camera "but I did not get a response from the principal and I have not heard back from the police, either."
The family has experienced other instances of discrimination since moving to North Carolina in 2014. Their second son said his classmates have wondered if Usmani was a terrorist because of his beard, prompting the father to stay away from his son's school. And his eldest son, 14, was suspended for six months and triggered a school lockdown when he brought a knife from Pakistan to show at school after seeing another boy bring a knife his father had bought in Colombia. The eldest son is now homeschooled and suffers bouts of depression and anxiety, Usmani said.
The family also had a neighbor who often harassed them, using racial slurs and telling the family how they must "behave" and how to "live in this country," Usmani told the Huffington Post. Furthermore, the family's mosque, in Fayetteville, was targeted by a heavily-armed man who told parishioners he was going to kill them.
"And then this (the bus incident) happened, so that was like a last nail in the coffin," he said. "And my wife says 'I am done, I am coming back.' And the irony is they (his two youngest sons were born in the US) have US passports, they need a visa to come back to Pakistan."
Bhagwanee has now moved the boys to Islamabad, Pakistan, and Usmani will have to travel back and forth between the US and Pakistan for his line of work. He says that work, using big data to predict who might be ripe for extremist recruitment, does not make him popular in a place like Islamabad.
"I do not feel safe in Pakistan because of my work," he told RT. "My children do not feel safe here because of Islamophobia. So I am not sure which country I can go to."
In 2013, the family was accosted in Pakistan following a business competition, he told Huffington Post. They were robbed and the family was beaten, Usmani especially.
According to his Quarrio biography, "Usmani has worked with CITI Bank, Discover Financials and been involved in projects with US Naval Academy, The United Nations, American Research Laboratories, FEMA and other law enforcement agencies worldwide."
You can share this story on social media: