#IAmMuslimNYC: New York launches social media drive amid hate crime spike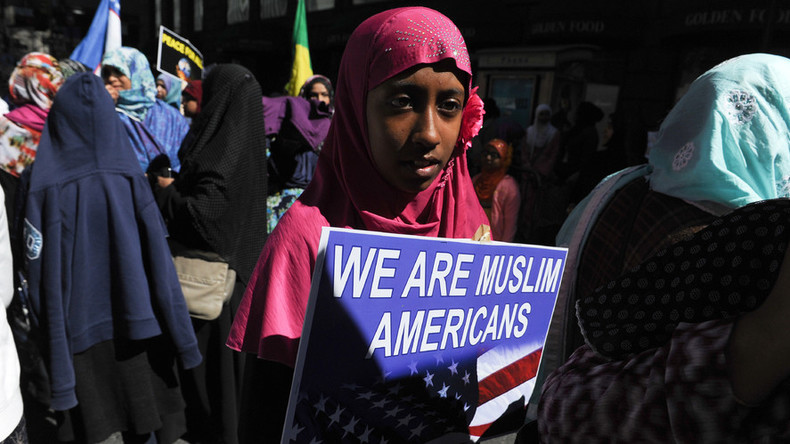 The New York City Mayor's Office and Commission on Human Rights has launched the #IamMuslimNYC social media ad campaign to help combat Islamophobia and the rising number of hate crimes being committed against Muslims in the Big Apple.
The idea was born out of what organizers have called the "recent negative rhetoric surrounding people of faith, immigrants and refugees."
The hashtag will be promoted across Facebook, Twitter and Instagram and also includes "ongoing events" to support the safety of the Muslim community as well as setting up free workshops to educate New Yorkers about Islam and cultural sensitivity. Multi-lingual leaflets and posters have also been published outlining the civil and employment rights of Muslims and "those perceived as such."
Democratic mayor Bill de Blasio opened the awareness drive, saying: "Now more than ever, it is important for every New Yorker to stand united as one city and reject hate and violence.
"In New York, everyone deserves to be treated with respect. Christian, Muslim, Jewish, Sikh, Hindu, agnostic and atheist — it doesn't matter," he said. "We are all New Yorkers and we all deserve to live safely and free from hatred or discrimination."
It's estimated there are more than 500,000 Muslims living in New York. Since 9/11 members of the Islamic community have endured hate crimes at an ever-increasing rate. Before the attacks on the World Trade Center, there were 20-30 anti-Muslim crimes reported across the US annually but in the last 18 months there have been 180 such incidents.
Earlier this month, a series of bombs detonated or were diffused in Elizabeth, New Jersey and Chelsea, Manhattan in a suspected terrorist attack by an Afghan-born Islamist extremist Ahmad Khan Rahami. Some 29 people were injured by the Manhattan blast.
READ MORE: 'Intentional act': At least 29 injured in improvised explosive blast in Manhattan
Within this climate of fear and mistrust, blamed by some on the anti-Muslim policy position of Republican presidential candidate Donald Trump, the latest initiative by the mayor's office has met with public support on social media.
A broader media campaign "to educate New Yorkers on combatting xenophobia and embracing religious diversity" is expected to follow in 2017.