Orbital's Antares rocket launches for first time since 2014 explosion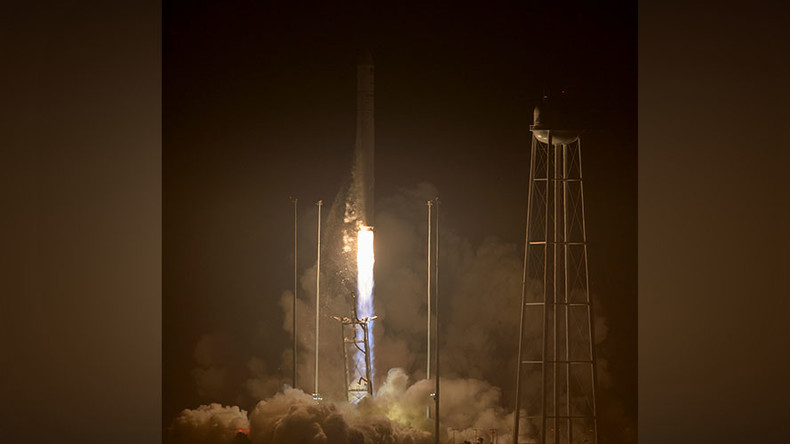 Orbital ATK's Antares rocket took off without a hitch from Wallops Flight Facility in eastern Virginia after a one-day postponement. It's the first spacecraft the NASA contractor has launched since an explosion in 2014.
"And we have liftoff of Antares on the OA-5 mission to the International Space Station!" Ground Control announced.
The Antares rocket will start an unmanned Cygnus cargo ship on its trek to the International Space Station. The capsule will carry more than 7,000 lbs of food, water and supplies to the ISS crew.
"On behalf of Orbital ATK, I want to thank all teams that got us to this point," a voice could be heard on the launch feed ahead of liftoff.
The launch should be visible for much of the East Coast, thanks to fair weather, NASA said.
Takeoff was originally scheduled for Sunday night, but a glitch with ground support equipment forced a 24-hour delay.
"Today's launch of Orbital ATK's Antares rocket is postponed 24 hours due to a ground support equipment (GSE) cable that did not perform as expected during the pre-launch check out," Keith Koehler, a NASA communications officer at Wallops Flight Facility, said in a statement. "We have spares on hand, and rework procedures are in process. The Antares and Cygnus teams are not currently working any technical issues with the rocket or the spacecraft."
On Monday, Antares was set to liftoff at 7:40pm ET, but faced a nominal delay of several minutes.
Cygnus successfully separated from the Antares rocket and its Russian-made RD-180 engines minutes after takeoff.
Sunday's delay was just the latest in a series of mishaps involving the Antares rocket. Almost exactly two years ago, on October 28, 2014, the third of Orbital's eight planned missions to the ISS exploded shortly after takeoff.
That rocket had some 5,000 pounds of food, supplies and science experiments, which all were engulfed in a fireball just above NASA's Wallop's Island facility.
While a minor setback compared to the explosion, there was a positive aspect to the day-long postponement: a beautiful view of the Hunter Supermoon rising above the launch pad.
Orbital's next launch is set for early 2017.
You can share this story on social media: