ISS-bound rocket explodes on takeoff from NASA facility in Virginia (PHOTOS, VIDEO)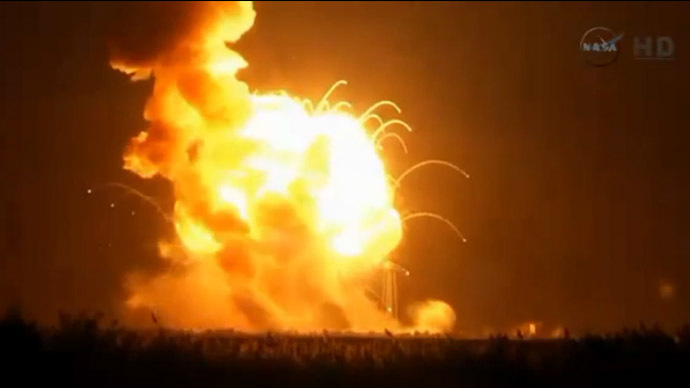 An unmanned rocket exploded shortly after takeoff Tuesday evening on Virginia's eastern shore. Orbital Sciences' Antares rocket was carrying thousands of pounds of equipment to restock the International Space Station.
The launch was supposed to be the third of eight planned Orbital missions to ferry gear and food to astronauts aboard the ISS. The rocket had some 5,000 pounds of food, supplies and science experiments, which all were engulfed in a fireball just above NASA's Wallop's Island facility.
The team on the ground has confirmed there are no injuries, although because of "classified crypto equipment" onboard, it is in the process of securing the surrounding area, chatter on the livestream of the launch said.

Orbital called the enormous blast a "vehicle anomaly" on Twitter.
There has been a vehicle anomaly. We will update as soon as we are able.

— Orbital Sciences (@OrbitalSciences) October 28, 2014
The Antares was originally supposed to lift off on Monday, but the launch was postponed 10 minutes before take-off because a sailboat ended up in the restricted danger zone south of the Virginia complex, the Associated Press reported. Controllers promptly halted the countdown.
.@OrbitalSciences declares contingency. @NASA and Orbital determining when press conference will be held. Updates: http://t.co/6Bo6KBRWnG

— NASA (@NASA) October 28, 2014
NASA spokesman Jay Bolden said that the investigation into the explosion could take anywhere from six months to a year. The US space agency has called on local residents to report any debris they find to help with the investigation.
Each delivery by Orbital Science's unmanned Cygnus capsule honors a deceased person linked to the company or a commercial spaceflight. Tuesday's mission was a tribute to Mercury astronaut Deke Slayton, who led a rocket company until his death in 1993. As a retro-style homage, Orbital Sciences flight controllers wore short-sleeved white shirts and skinny black ties.
While the ISS crew will not get their Halloween presents, they have enough supplies to last until March, NASA's International Space Station program manager Mike Suffredini said at the press conference. "I think if no other vehicle showed up, we could go to into March," he said.
However, the explosion gave astronauts some excitement as they watched the rocket launch live from the space station.
Oh wow! @NASA just said that the @Space_Station crew were watching the live feed and saw #Antares explode & realised no resupply was coming

— Alan Duffy (@astroduff) October 29, 2014
The cost of the launch was around $200 million, while the total cost for the cargo is yet to be determined, NASA revealed at the press conference.
Along with 32 mini-research satellites, a meteor tracker and a tank of high-pressure nitrogen to replenish a vestibule used by spacewalking astronauts, the company stowed a post-Halloween surprise for the two Americans, three Russians and one German aboard the ISS, Orbital said at a prelaunch news conference Sunday.
The launch of the Orbital Sciences' #Antares Rocket has failed immediately after launch pic.twitter.com/OPp8s9Uc7k

— Jason Rabinowitz (@AirlineFlyer) October 28, 2014
Antares Rocket blows up on liftoff #breaking#7newspic.twitter.com/YVBu96gt6u

— Brad Tatum (@BradTatum) October 28, 2014
Orbital Sciences, a US-based company designing and manufacturing small- and medium-sized rocket systems, has been contracted by NASA to resupply the ISS.
Also onboard the rocket was Planetary Resources' Arkyd 3 telescope prototype, which is being developed to explore space and identify natural resources from asteroids. The project was privately funded and raised $1.5 million in a 2013 Kickstarter campaign.
Live to fly another day. Onward! #Antares

— Planetary Resources (@PlanetaryRsrcs) October 28, 2014
The prototype destroyed in the explosion was only a demonstrator, meant as a stepping stone to the first Arkyd 100 telescope, which the company plans to launch in 2015, Popular Mechanics reported.
Some of the cargo that Antares failed to deliver Tuesday will be taken up to the ISS in December, Suffredini added. It will be delivered via a SpaceX craft, which has already been scheduled to take off in a separate $1.6 billion launch.
SpaceX, a privately owned company headed by technology billionaire Elon Musk, has been working to be the first commercial company to take astronauts to space as early as 2017 via reusable spacecraft. However, its launches have not all gone smoothly too, with an unmanned Falcon 9R rocket exploding mid-air late August during a test flight.
You can share this story on social media: