China's first 'moon & back' mission blasts off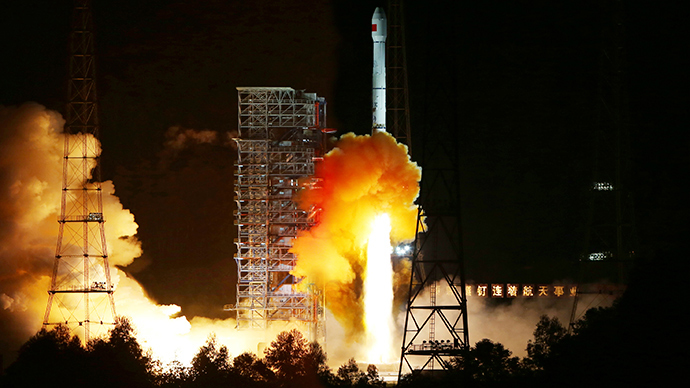 Beijing has launched the third phase of its lunar exploration program – an experimental spacecraft is set to fly around the moon and back, ahead of China's first unmanned landing on the lunar surface in 2017.
The spacecraft took off from the southwestern Xichang Satellite Launch Center, central China, on Thursday night. Shortly afterwards it entered Earth's orbit, the State Administration of Science, Technology and Industry for National Defense said.
READ MORE: Chinese space team survives on worm diet for 105 days
The Chang'e-5-T1 module will be some 413,000 km away from Earth at its farthest point on the eight-day mission. The orbiter aims to "obtain experimental data and validate re-entry technologies such as guidance, navigation and control, heat shield and trajectory design."
The mission will return to Earth using a Soviet-designed method: first, bouncing off Earth's atmosphere to slow down, and then, entering the atmosphere with the lower speed - something which prevents the spacecraft from burning up.
China says it will soon launch a test probe ahead of its lunar mission in 2017. https://t.co/H2ovFPqgJT#spacepic.twitter.com/99yC2DFV16

— Inside Space (@GoInsideSpace) September 3, 2014
The Chinese lunar program is called Chang'e after a mythical goddess, and has sent a couple of orbiting lunar probes to the final frontier. Last year, a craft with a rover landed on the moon.
READ MORE: China becomes third country to land on moon
The 2017 mission is set to see a Chinese spacecraft land on the moon, collect samples and return to Earth, making China the third space power after Russia and the US to have conducted a mission like this.
A crewed mission to the moon is also possible later on, China hinted, according to AP.
Apart from the lunar program, Beijing is working on the Long March 5 heavier-lift rocket in order to set up a more permanent space station, Tiangong 2.
You can share this story on social media: