41 percent of US voters think ballot fraud could steal election from Trump – poll
Published time: 17 Oct, 2016 20:11
Edited time: 18 Oct, 2016 14:57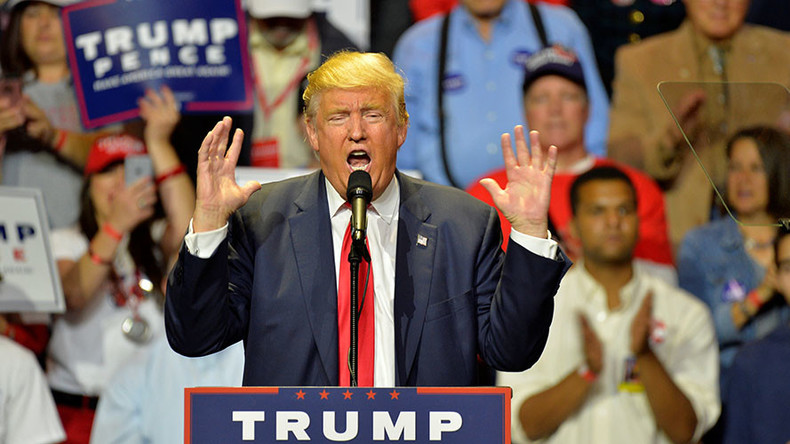 The presidential election next month could be "stolen" from Republican candidate Donald Trump due to voter fraud, according to 41 percent of registered voters surveyed in a new poll.
In all, 73 percent of Republicans and 17 percent of Democrats surveyed said they strongly or somewhat agree with Donald Trump's repeated assertion "that this election could be 'stolen' from him as a result of widespread voter fraud,"according to a new Politico/Morning Consult poll of nearly 2,000 registered voters.
Without offering evidence, Trump has consistently said over the last several months of his campaign for president that voter fraud and a "rigged" election system that will favor Democratic nominee Hillary Clinton could undo his candidacy. On Monday, he tweeted: "Of course there is large scale voter fraud happening on and before election day. Why do Republican leaders deny what is going on? So naive!"
On Sunday, Mike Pence, Trump's running mate, said that he and Trump "will absolutely accept the results of the election," and that Trump's claims come from animosity for "the obvious bias in the national media" against Trump's candidacy. Shortly after Pence's statements, Trump tweeted: "The election is absolutely being rigged by the dishonest and distorted media pushing Crooked Hillary - but also at many polling places."
Nearly 60 percent of voters surveyed in the poll agreed that "raising questions about the democratic process and the accuracy of the 2016 presidential election results" is "necessary because the election could be compromised by voter fraud or a foreign government." Nineteen percent of registered voters said raising such questions was "dangerous because it could lead to widespread distrust in the electoral process."
"The results show that voters are increasingly losing confidence that votes around the country will be counted accurately on Election Day,"said Kyle Dropp, chief research officer at Morning Consult. "The sentiment especially rings true among Trump's supporters, with half expressing concern about a 'rigged election.'"
Eighty percent of voters surveyed said they are very or somewhat confident that their own vote will be counted correctly, the poll found, while 30 percent of those same voters were skeptical about vote counts around the US.
Trump's statements questioning the validity of election results have been disputed by Republican House Speaker Paul Ryan, who has said he is no longer defending Trump.
"Our democracy relies on confidence in election results, and the speaker is fully confident the states will carry out this election with integrity," Ryan's office has said about Trump's comments. In return, Trump has said Ryan is "a man who doesn't know how to win" and is "always fighting the Republican nominee!"
Yet the poll found that 44 percent of registered Republicans supported Ryan as speaker, while 37 percent did not.
Overall, the poll found that registered voters preferred Clinton to Trump, 46 percent to 41 percent. In a four-way race, Clinton was supported by 42 percent, Trump by 36 percent, Libertarian Party candidate Gary Johnson by 10 percent, and Green Party candidate Jill Stein by 3 percent.
Seventy-one percent of those surveyed said the United States is on the "wrong track," while 29 percent said it was going in the "right direction." The health of the US economy was the most important issue in this election for those surveyed, with 32 percent saying so, followed by 22 percent who said security issues and 15 percent who said seniors' issues.
Elsewhere, 60 percent of those surveyed strongly or somewhat support legalizing marijuana while 32 percent somewhat or strongly oppose legalization.