Bye Felicia? Trump lashes out at Ryan over pivot toward keeping Congress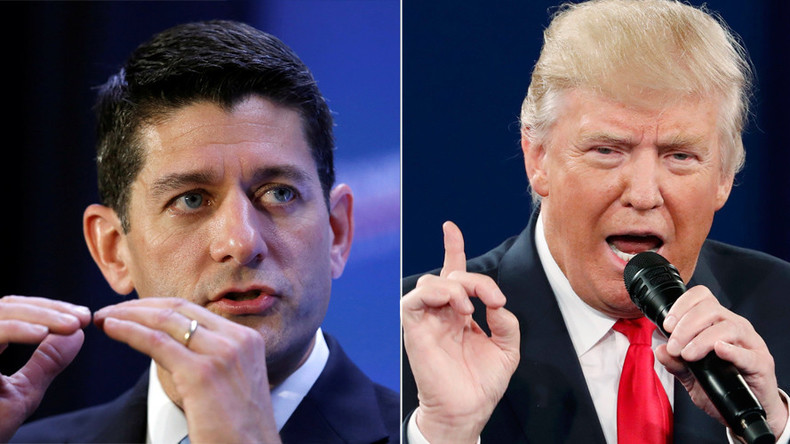 Speaker of the House Paul Ryan (R-Wisconsin) said he would stop campaigning with GOP presidential nominee Donald Trump, while advising congressional Republicans to focus on saving their own seats instead.
"You all need to do what's best for you and your district," Ryan reportedly said, according to media reports citing participants in Monday morning's conference call. "Handle Trump however it works best in each individual race."
Ryan also reportedly said the presidential election is "lost" at this point in the race, but did not officially withdraw his endorsement of Trump.
Trump was not impressed, and tweeted out a retort from his Android early Monday afternoon.
Responding to Trump's tweet, Ryan's spokeswoman, AshLee Strong basically ignored the presidential candidate's tweet, saying: "The speaker is going to spend the next 29 days completely focused on protecting our congressional majorities in order to advance our 'Better Way' agenda." She also told Bloomberg's Sahil Kapur that her boss is "not conceding" the race for the White House.
On social media, Ryan was attacked from both sides for being a political Schrodinger's cat, who is both supporting and not supporting Trump after the House speaker reportedly jumped back on the call to reassure vocal Trump supporters in the conference that he would not pull his endorsement.
Some Trump supporters took their dismay at Ryan offline and into the real world, with about 30 people protesting outside of the Republican National Committee headquarters in Washington, DC on Monday afternoon.
Corey Stewart, Trump's campaign chair in Virginia, was later fired for organizing the RNC protest, WJLA's Jeff Goldberg reported. Stewart was heavily criticized Friday for telling the Washington Post that Trump "acted like a frat boy, as a lot of guys do," regarding leaked audio of Trump telling then-'Access Hollywood' co-host Billy Bush that his fame and fortune lets him do anything he wants to women, including "grab them by the p****y." It was those comments that led to the latest schism between Trump and Ryan, as well as many other Republicans in Congress. Stewart is also running for governor in Virginia.