'F*** your wall!': Trump protesters & supporters clash in San Jose as Ryan offers endorsement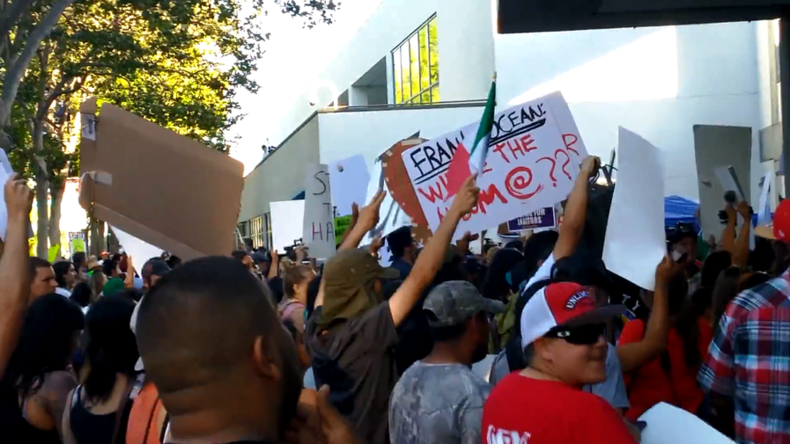 Violence erupted in San Jose, California when around 1,000 demonstrators clashed with supporters of Republican presidential nominee Donald Trump after his Thursday rally. It came the same day House Speaker Paul Ryan finally endorsed the billionaire's bid.
Prior to the violence, Trump spoke at the San Jose Convention Center. As Trump's supporters came out of the center, opponents confronted them waving Mexican flags and holding placards.
One protester was seen burning Trump's "Make America Great" hat.
Others were heard chanting "F--- your wall," "F--- Donald Trump" and "Donald Trump has got to go."
As the protests spread from the convention center onto the streets, witnesses spotted signs reading:"We need socialism"and"A vote for Trump is a vote for fascism."
Amid the scuffles, one man was knocked to the ground and his attacker was arrested by police. In another skirmish, Trump opponents reportedly punched one supporter.
Another video caught a female Trump supporter getting egged in the face by protesters after being surrounded by demonstrators and cameras.
Videos from the scene showed police stepping in and using bats to fight off and push out protesters.
It is just the latest in a series of anti-Donald Trump protests in the last fortnight.
Previously, some 1,000 activists took to the streets of San Diego, California, on May 27, and some 35 people were arrested when the protest rally turned violent. In Anaheim, Trump's opponents were reported to have thrown stones at police officers who cordoned off the area of the convention center where the presumptive Republican candidate was speaking to his supporters.
And a primary in New Mexico's Albuquerque, the streets turned into a battleground as anti-Trump protesters waved Mexican flags, jumped over police cars and attacked officers with burning missiles and rocks – while law enforcers responded with pepper spray.
Ryan's endorsement
Meanwhile, House Speaker Paul Ryan has finally endorsed Donald Trump for president after weeks of refusing to offer his formal support to the presumptive Republican nominee.
Ryan, the party's highest-ranking elected GOP official, announced his endorsement Thursday in an article in his local newspaper in Wisconsin, The Gazette Extra.
He explains that the party has a "bold agenda" of reform aiming, to bring about "a positive optimistic vision for a more confident America," something he believes can not be achieved by Hillary Clinton.
"A Clinton White House would mean four more years of liberal cronyism and a government more out for itself than the people it serves. Quite simply, she represents all that our agenda aims to fix," he writes.
Ruling out Clinton as a possibility in advancing GOP policies, Ryan turns his column to Trump, revealing the common ground the pair reached after detailed discussions on a number of issues.
"Through these conversations, I feel confident he would help us turn the ideas in this agenda into laws to help improve people's lives. That's why I'll be voting for him this fall," he writes.
Although noting he still has differences with Trump, Ryan's column concludes: "It's not just a choice of two people, but of two visions for America. And House Republicans are helping shape that Republican vision by offering a bold policy agenda, by offering a better way ahead."
"Donald Trump can help us make it a reality."
Trump responded two hours later on Twitter saying that together they would "make America great again."
Ryan had consistently refused to endorse Trump due to his anti-Islamic statements and policy differences, a stance which had created divisions within the party.
The two men met on May 12 and issued a joint statement noting the meeting was positive but no endorsement was made. Just a week beforehand, Ryan told CNN he "was not ready" to support Trump.
READ MORE:'This is a process': Trump-Ryan meeting signals reconciliation, but no endorsement yet
After news of the endorsement broke Thursday, Ryan was trending on Twitter with many people calling him out for abandoning his principles and backing Trump.