35 arrested, anti-Trump protesters clash with police in San Diego, California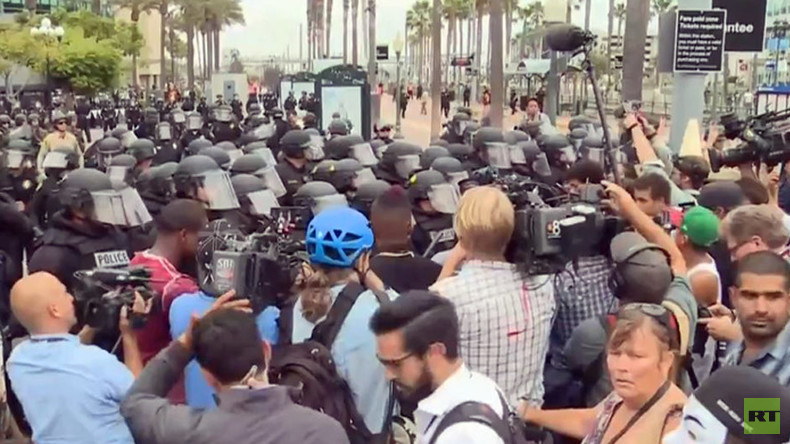 Over 1,000 people have taken to the streets of San Diego, California to protest the presumptive Republican presidential nominee Donald Trump. At least 35 demonstrators were arrested after the rally turned violent, police said.
Several protesters in a crowd of about a thousand, according to the police, attempted to jump the barricade outside the San Diego Convention Center. Officers used force to stop them.
At least 35 people were arrested during the rally, San Diego police said on Twitter.
"No property damage was reported. No injuries were reported," police added.
The crowd gathered outside the venue where Trump is holding a stump speech waved Mexican flags and signs denouncing the US invasion of Mexico in 1848.
A photo taken earlier showed the crowd waving effigies of Trump, pictures with swastikas, and signs saying Trump "incites racism and violence."
After the rally, police in riot gear separated Trump supporters from the protesters. Chants of "F*** Trump!" and "Viva Mexico!" were answered with "USA!" and "Build that wall!"
The two groups managed to get into a scuffle anyway, with several punches thrown before they were separated. At least three people were arrested, according to the San Diego police.
Inside the packed Convention Center, Trump gave a rambling speech to cheering supporters, denouncing his critics in the media, naming and shaming reporters at the "failing" New York Times and the Washington Post. He also denounced the "scam" class-action lawyers involved in the lawsuit against Trump University, which is being heard by a federal judge in San Diego.
He also denounced the "thugs" burning the American flag outside another rally earlier this week.
"When somebody hits you, you have to fight back!" Trump said from the podium.
You can share this story on social media: