Twins conjoined at the head successfully separated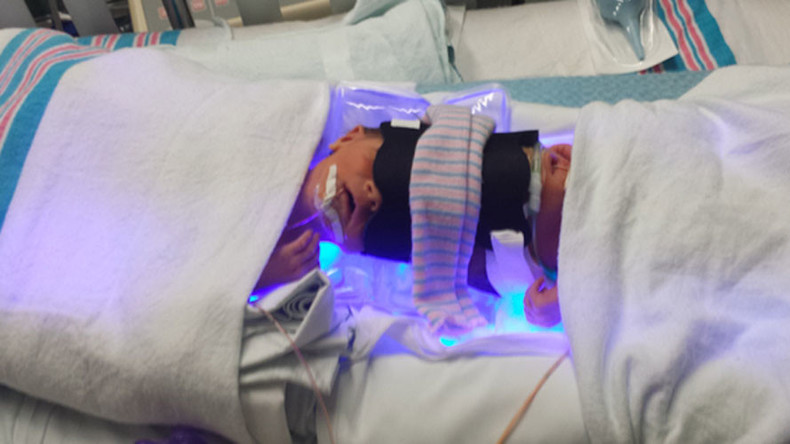 Surgery to separate and then reconstruct the skulls of twin 13-month-old boys conjoined at the head took a total of around 22 hours at a children's hospital in New York City, marking the world's 59th craniopagus separation surgery since 1952.
Jadon and Anias McDonald were successfully separated at Children's Hospital at Montefiore Medical Center in the Bronx on Friday morning as part of surgery that lasted more than 16 hours, according to CNN. The surgery was led by Dr. James Goodrich, an expert on craniopagus surgery who has now performed seven of the risky procedures.
The boys' parents, Nicole and Christian McDonald of Charleston, Illinois, were informed of the successful surgery at about 3:00am ET. After that, separate procedures to reconstruct their skulls lasted another six hours or so, CNN reported, resulting in around 22 total hours of surgery.
"TWO SEPARATE BABIES!!!...and yet I ache with the uncertainty of the future," Nicole McDonald wrote on her Facebook page. "I didn't cry until the surgeons left the room. I was barely able to even utter the words 'thank you' because of the pit that still sits heavy in my stomach. We are standing on the brink of a vast unknown. The next few months will be critical in terms of recovery and we will not know for sure how Anias and Jadon are recovering for many weeks."
Rather than undergo one single operation that could have lasted more than 50 hours, Dr. Goodrich has helped form new surgical methods for conjoined twins like the McDonalds. The boys had three prior operations, each with the goal of gradual brain separation.
The twins will remain under incubation for around a week, Nicole McDonald said.
The family has raised more than $150,000 to help pay medical costs.
Craniopagus twins occur once in every ten million live births, according to the McDonalds.
"So we just took a huge leap of faith, but now we are back to taking baby steps," Nicole said of the surgery, according to USA Today. "In fact, I'm pretty sure I'm still frozen in space and time...in the smiles of yesterday morning. I'll be hanging out there until I see those smiles again."