Trump claims US gov't is letting undocumented immigrants vote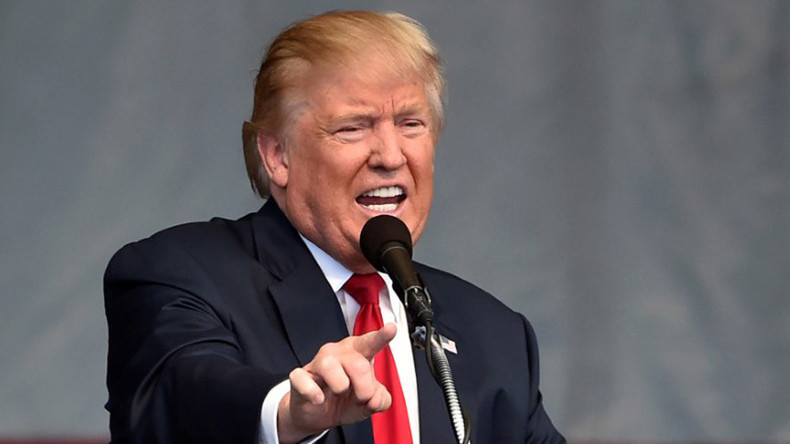 During a meeting with leaders of a union for border patrol agents, Republican presidential nominee Donald Trump said the US government is allowing undocumented immigrants with criminal records to "pour into the country so they can go ahead and vote."
Trump's claim, an echo of his repeated assertion that his November showdown against Democratic candidate Hillary Clinton could be "rigged" against him, came amid a meeting in New York City's Trump Tower with officials of the National Border Patrol Council (NBPC), a union representing US border patrol agents that has endorsed Trump's candidacy.
Art Del Cueto, vice president of the union, suggested during the meeting that undocumented immigrants with criminal histories who have been apprehended at the border have not been deported "so they can go ahead and vote before this election," the Wall Street Journal reported.
"Some of these individuals that we've apprehended with criminal records, they're not… they're checking their records, they see that they have criminal records, but they're setting them aside because at this point they are saying immigration is so tied up with trying to get the people who are on the waiting list to hurry up and get them their immigration status corrected," Del Cueto said during the meeting, according to WSJ.
When Trump asked why that was the case, Del Cueto responded: "So they can go ahead and vote before the election."
Trump then called the situation "a massive story" that would likely be ignored by the news media, AP reported.
"Big statement, fellas," Trump added. "They are letting people pour into the country so they can go ahead and vote."
Del Cueto then repeated the assertion, according to the WSJ: "They want to hurry up and fast-track them so they can go ahead and vote in the election."
The US Citizen and Immigration Service (USCIS) handles citizenship applications. Obtaining citizenship can take many years, and only US citizens can vote.
NBPC said in a "clarification to statements made during" the Trump press conference that the union "has an internal email from the United States Citizen and Immigration Service showing that extra overtime is being provided to employees to process as many applications for citizenship as possible prior to November 8," the union said in a press release.
"The NBPC also has text messages from upper level managers telling us that criminal prosecution cases are being put on hold in order for judges to adjudicate these applications. Historically, we have seen criminal background checks curtailed in situations like this, thus allowing some criminals to gain United States citizenship."
The union went on to say that there is currently a "new surge of illegal immigration along the Southern Border," and that some may attempt to illegally enter the US prior to the election, after which a new set of immigration policies will likely unfold.
Meanwhile, union spokesman Shawn Moran told AP that Trump and union leaders conflated many issues during their discussion.
Addressing illegal immigration at the US-Mexico border is a cornerstone of Trump's campaign. And, in recent months, he has repeatedly warned that the November election could be "rigged," tying alleged voter fraud to such claims. Last week, Trump said the first presidential debate with Clinton was "rigged," and during his party's nomination campaign, he described as "rigged" the Republican system for selecting delegates.
The "rigged" rhetoric is a heightening of such fears long stoked by the GOP, despite any clear evidence of substantial voter fraud, which has led Republicans across the US to install voter ID laws, several of which have been struck down in court.
"There's been a two-decade campaign on the right to drum up fears of 'voter fraud' stealing elections," Ari Berman, author of 'Give Us the Ballot', a history of voting rights, told the Washington Post in August. "They're trying to say that these voting rights victories will lead to more fraud. They want to spin these court victories not as something that's good for democracy, but something that will hurt democracy. That's what Trump is buying into."
On Wednesday, during a campaign stop in Nevada, Trump called on supporters to "watch" polling places in "certain areas" to help prevent fraud.
"Don't let the other side take this election away from us because this is the last chance we get," he said, according to WSJ.