North Carolina voter ID law is discriminatory – federal appeals court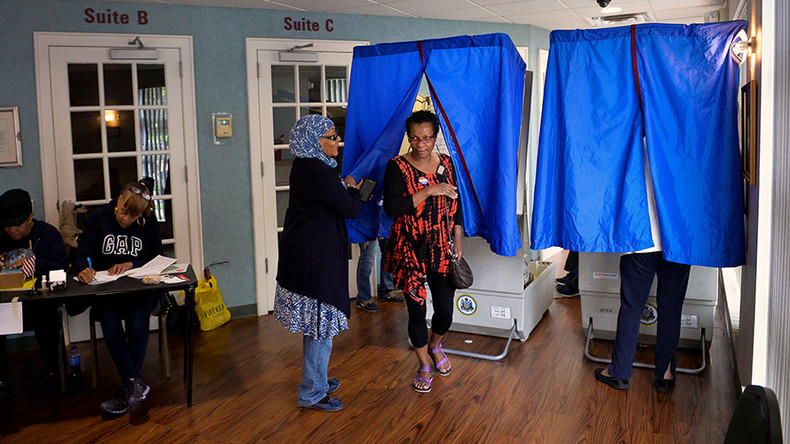 A federal appeals court struck down a North Carolina law requiring voters to present a photo ID before casting ballots in elections, finding that certain provisions in it were "enacted with racially discriminatory intent."
Friday's unanimous ruling was handed down by the US Court of Appeals for the 4th Circuit, invalidating changes to state law passed in 2013 that the court deemed to have "disproportionately affected African-Americans."
"In holding that the legislature did not enact the challenged provisions with discriminatory intent, the court seems to have missed the forest in carefully surveying the many trees," wrote Circuit Court Judge Diana Gribbon Motz in the opinion. "This failure of perspective led the court to ignore critical facts bearing on legislative intent, including the inextricable link between race and politics in North Carolina."
The opinion from the three-judge panel in Richmond, Virginia reverses a lower-court ruling from April that had upheld the law.
Many said that the law was necessary to thwart voter fraud, arguing that photo identification is necessary for lower-stakes endeavors such as driving a car or withdrawing money from a bank.
However, critics of the law claimed that the law was actually intended to disenfranchise certain voters who are less likely to have a photo ID, such as black and Latinos.
While the court panel was unanimous on the motivations behind the law, Judge Motz disagreed, in part, on the remedy that was ordered, noting that the state had relaxed the photo-ID requirement in 2015 by allowing voters to vote without ID if they signed an affidavit saying that they had a "reasonable impediment" to obtaining one.