'Blatant overreach': North Carolina sues DOJ over transgender bathroom law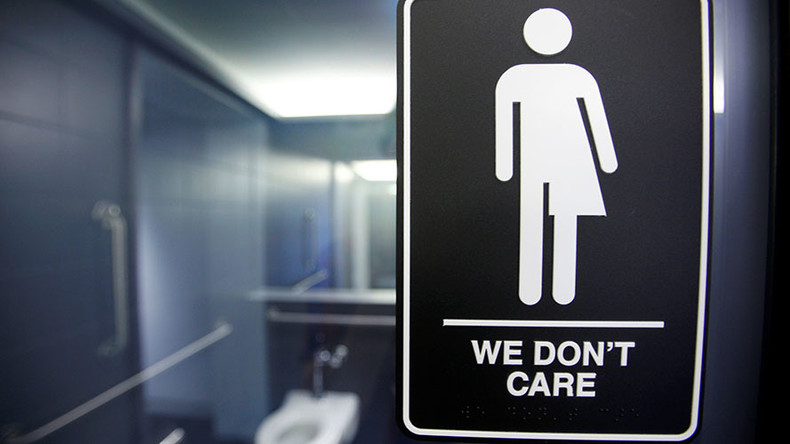 North Carolina is suing the US Department of Justice over the government's claim that the state violated federal civil rights rules when it passed a law barring people from using bathrooms that don't correspond to the gender on their birth certificates.
Filed on Monday in a federal district court, the lawsuit takes aim at the Justice Department's interpretation of Title VII of the 1964 Civil Rights Act, which bans discrimination against employees based on sex. Last week, the DOJ determined that North Carolina was in violation of Title VII, because a law it passed on March does not allow transgender people to use the bathroom corresponding to the gender they identify with.
The lawsuit filed by North Carolina officials argues that the federal government's stance on Title VII constitutes a "radical reinterpretation" of the law, the New York Times reported.
"The department contends that North Carolina's common sense privacy policy constitutes a pattern or practice of discriminating against transgender employees in the terms and conditions of their employment because it does not give employees an unfettered right to use the bathroom or changing facility of their choice based on gender identity," the lawsuit reads. "The department's position is a baseless and blatant overreach."
The Justice Department has not commented on the lawsuit, but officials have said that if North Carolina keeps its law on the books, then the state could lose billions in federal funding allocated to the state's school system, due to Title VII violations in the workplace and in education. The University of North Carolina school system receives $1.4 billion in federal funds alone, while another $800 million is directed towards student loans, according to the Associated Press.
In a separate action Monday, the Justice Department issued a formal complaint against North Carolina over the law.
"This action is about a great deal more than just bathrooms," Attorney General Loretta Lynch said in a DOJ statement released Monday. "This is about the dignity and respect we accord our fellow citizens, and the laws that we, as a people and as a country, have enacted to protect them – indeed, to protect all of us. It's about the founding ideals that have led this country – haltingly but inexorably – in the direction of fairness, inclusion, and equality for all Americans."
"This is not a time to act out of fear. This is a time to summon our national virtues of inclusivity, diversity, compassion, and open-mindedness. What we must not do – what we must never do – is turn on our neighbors, our family members, our fellow Americans, for something they cannot control, and deny what makes them human," Lynch added.
In addition to basing bathroom access on the gender listed on one's birth certificate, the law known as House Bill 2 (HB2) bans local governments from creating their own rules for transgender bathroom use. It also prohibits people from suing over sex discrimination in court.
While North Carolina Governor Pat McCrory has tried to alleviate some of the concerns over the law – he said he supports the push to reinstate the right to sue over discrimination – criticism of the measure has been severe. Defenders say it is meant to protect women from sexual assault in restrooms, but LGBT supporters say it is discriminatory and want it rolled back.
Many businesses have also taken exception to the law. More than 100 companies – including Apple, Starbucks and American Airlines – have signed a letter suggesting that the law needs to be repealed. Some musical acts have cancelled performances in the state over the law, while business conventions have also been cancelled.
Despite the pressure, McCrory and the state have held firm.
The Department of Justice is attempting to "unilaterally rewrite long-established federal civil rights laws in a manner that is wholly inconsistent with the intent of Congress and disregards decades of statutory interpretation by the courts," North Carolina said in the lawsuit filed on Monday. "The overwhelming weight of legal authority recognizes that transgender status is not a protected class under Title VII."