Trouble in GOP paradise? Trump reportedly unhappy with Pence's VP debate win
Published time: 5 Oct, 2016 18:38
Edited time: 6 Oct, 2016 12:04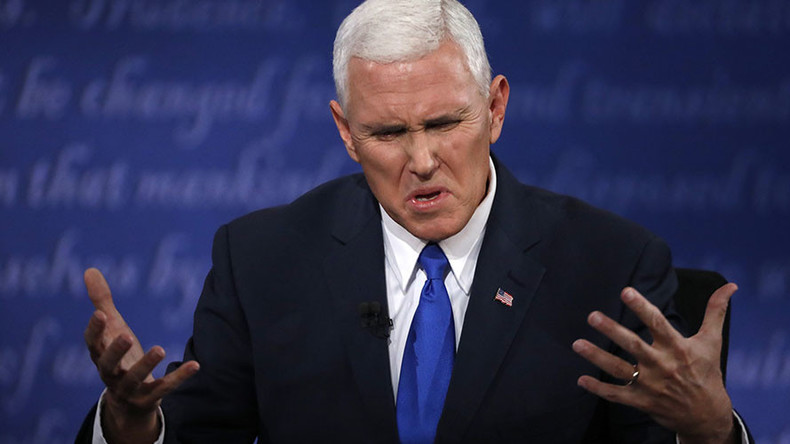 Although Republican presidential nominee Donald Trump has praised his vice presidential pick Mike Pence's debate performance on Twitter, sources close to the campaign say Trump is upset the Indiana governor upstaged him and threw him under the bus.
Conventional wisdom says that Pence won the vice presidential debate over Democrat Tim Kaine on Tuesday night. Pence's background as a talk radio host appeared to help his cause, while the senator from Virginia came across as the attack dog defense attorney he once was.
Pence scored his victory, however, by not only declining to defend Trump's offensive statements, but denying that the billionaire businessman hadn't said the things he's been recorded as saying.
Instead, the Indiana governor "spent most of the debate defending a Trump that doesn't exist," the Washington Post's Amber Phillips wrote, while National Review Executive Editor Rich Lowry said: "Pence evidently decided to pretend that he is on a ticket with an utterly conventional Republican... [and his] sidestepping of Trump is the big asterisk on his night."
On Twitter, Trump supported his VP, saying that Pence did "a great job" and that he "won big." Of the nearly 50 messages about the debate that Trump tweeted or retweeted, only three appear to have been written by Trump about Pence's performance. The rest were either written by others or were attacks on Democratic nominee Hillary Clinton or Kaine.
Could the relative lack of praise for Pence signal trouble behind the scenes? According to sources close to Trump, he's furious with his running mate's performance.
"Pence won overall, but lost with Trump," an adviser told CNBC's John Harwood. "He can't stand to be upstaged."
A source close to Trump agreed with that assessment, telling CNN's John King that the reviews that Pence did better than the real estate mogul didn't sit well with Trump.
A Republican operative briefed Wednesday morning by a member of Trump's inner circle, described Trump's pride in a subordinate's accomplishments as "uncharacteristic," Politico reported.
Part of Pence's win came from his noticeable preparation, as well as an unflappable demeanor, despite numerous interruptions by Kaine. It was a marked contrast to Trump's performance during the first presidential debate, in which the GOP nominee appeared unprepared and easily provoked by Clinton's barbs.
Trump blamed an admittedly faulty microphone for his poor performance, however, and used it as an excuse not to prepare any more rigorously for the second debate – to be held on Sunday – as he did for last Monday's face-off, he told the New York Times.
GOP insiders and campaign staffers are pushing for Trump to prepare more for the upcoming confrontation with Clinton, though, and now party faithful are pushing for Pence to work with Trump ahead of the second and third presidential debates.
"My greatest hope is that Gov. Pence participates in Mr. Trump's debate prep," former Trump campaign aide Michael Caputo told Politico.
Trump should follow Pence's lead and learn to "go in with a set strategy and not chase every question and Hillary Clinton statement down rabbit trails," said Scott Reed, senior political strategist at the Chamber of Commerce.
It remains to be seen how Pence's performance will play in the polls. Typically, the vice presidential debate has little to no effect on voters, but the Indiana governor played to traditional conservative values in a way that Trump has thus far not been able to. Clinton received a big bump in the polls after the first presidential debate.