Virginia teen charged with 2 misdemeanors for stealing milk carton, faces trial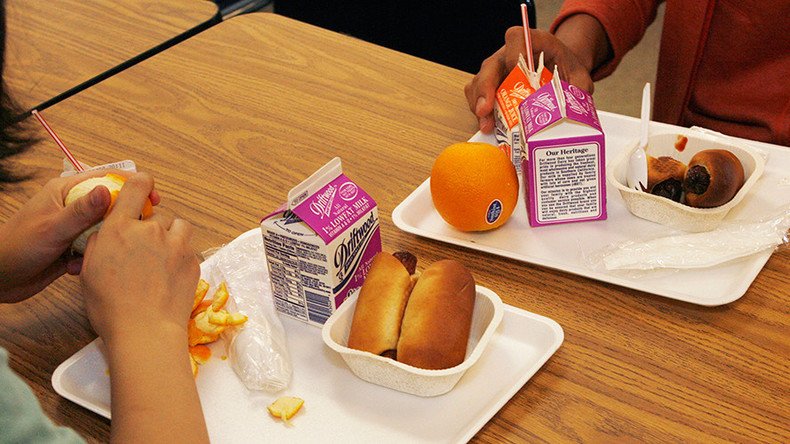 A 14-year-old African American boy eligible for free lunches is facing criminal charges over accusations that he stole a carton of milk at school. The boy's family denies he stole the milk, alleging he was unfairly singled out by a school police officer.
This week, a judge in Prince William County, Virginia, set a November trial date for Ryan Turk, now a freshman in high school, who was arrested and charged in May with two misdemeanors, disorderly conduct and petit larceny, after a school resource officer alleged that the boy cut in line during lunch at Graham Park Middle School and stole a 65-cent carton of milk.
The case highlights the so-called school-to-prison pipeline, which associates increased criminalization of minor infractions at schools with mass incarceration, as well as disproportionate rates of discipline levied against students of color and concerns over the role of police officers in schools.
Ryan and his mother, Shamise Turk, have said he did nothing wrong by taking a milk, one they say he was entitled to. And though the school resource officer who apprehended and handcuffed Ryan for the alleged infraction is also black, they and their lawyer say Ryan's treatment is related to institutional racism that targets black youth.
"No one needs to be punished for stealing a 65-cent carton of milk," said Emmett Robinson, a lawyer for the family, according to the Washington Post. "This officer treats kids like they're criminals, and guess what happens — they're going to become criminals."
According to Ryan, on May 10, during the school's lunchtime, he forgot to get a milk when he went through the lunch line. He returned to the line and took a milk. The school resource officer claimed that Ryan cut in line and then concealed the milk he grabbed. The officer said when he confronted Ryan, the student threw the milk back, and when he said the student should see the principal, Ryan became disorderly.
Ryan says that after grabbing the milk, the officer approached him. Ryan then said he'd put the milk back, but the officer said to go to the principal.
Ryan said the officer then grabbed him by the neck.
"I yanked away from him I told him to get off of me because he's not my Dad," he told WJLA in May.
Furthermore, Shamise Turk said surveillance video shows that Ryan did not conceal the carton.
"This is ridiculous... this is beyond embarrassing... he's at home for 65 cents," Shamise Turk told WJLA. "I'm angry, I'm frustrated, I'm mad. It just went too far. They are charging him with larceny, which I don't have no understanding as to why he is being charged with larceny when he was entitled to that milk from the beginning."
Ryan was handcuffed at the school, and the officer placed the two charges against him.
"It's just unfair," Ryan said. "Other people did that. One boy, I told him to get one for me before. But when I do, I get in trouble."
A school spokesperson said in May that Ryan was suspended for theft, being disrespectful, and using a cell phone in school.
A Prince William County schools spokesman told the Post that the May incident was not race related, especially given the officer and the school's principal are black.
"All the key parties involved, including the principal and the police officer, are African American," said Phil Kavits. "The staff members are well known in our highly diverse community for their dedication and caring approach to all students."
Yet Robinson, who told the Post that Ryan had not been in trouble as school before the incident, said the race of the officer and the principal does not matter.
"It's not the players, it's not the people who discriminate, it's the whole system," Robinson said. "The system is set up now so that school resource officers get to determine the impact on a person's life."
The family opted for a trial, rejecting an offer of non-judicial punishment.
"My son is not going to admit to something he did not do," Shamise Turk said.
The American Civil Liberties Union calls the "'school-to-prison pipeline,' a disturbing national trend wherein children are funneled out of public schools and into the juvenile and criminal justice systems."
The National Association for the Advancement of Colored People Legal Defense and Educational Fund says the school-to-prison pipeline is reflective of school discipline rates at all-time highs, as inadequately-funded, testing-obsessed school systems are pushed to punish students as opposed to more productive intervention.
"Rather than employ traditional disciplinary measures, such as counseling or detention, when students misbehave, schools are becoming increasingly dependent on suspensions, expulsions, and law enforcement to punish students," the NAACP says. "Children are being arrested or removed from schools, even for minor discretions, at alarming rates around the country."
Meanwhile, African-American students are almost three times as likely to be suspended as their white peers, the organization says.
Recent high-profile run-ins between black students and school officers include a South Carolina officer who bodyslammed a 16-year-old girl; seven-year-old boy who was handcuffed by a Missouri officer after the boy yelled at students who were bullying him; and a Texas officer who put a teenager in a coma with a Taser during a school fight the teen was attempting to break up.
School police officer have used Tasers on at least four students since August, and at least 84 times since 2011, according to a new Huffington Post report.
You can share this story on social media: