ACLU files lawsuit against Kansas City Public Schools after bullied 7-yo handcuffed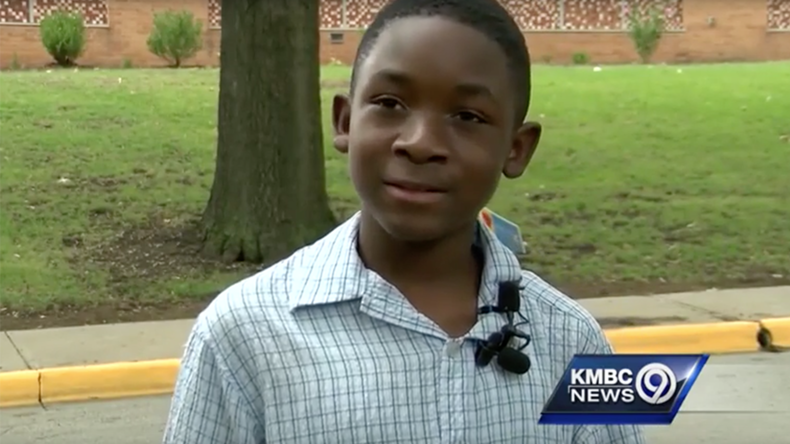 The American Civil Liberties Union of Missouri has filed a lawsuit against Kansas City Public Schools in response to the 2014 handcuffing of a second grader who was crying and screaming in class while being bullied.
In 2014, Kalyb Wiley Primm, who was seven years old and less than four feet tall at the time, was being teased for having a hearing impediment inside a classroom at George Melcher Elementary School in Kansas City, Missouri, according to the lawsuit. He began to cry and scream. School resource officer Brandon Craddock heard the cries and pulled Primm out of the classroom to take the boy to Principal Anne Wallace's office.
The lawsuit, filed on behalf of the Primm family, alleges that Craddock pulled a "frightened" Primm by one arm through the hallway of the school. When Primm held on to a handrail with his free hand, Craddock twisted the boy's arms and handcuffed him.
"Instead of stopping or employing any de-escalation techniques, Defendant Craddock twisted (Kalyb's) arms and handcuffed ... his arms behind his back, and then led him to the front office in handcuffs," the lawsuit says.
Craddock's report of the incident says that he told Wallace that Primm had been "out of control in his classroom and refused to follow my directions," while the lawsuit suggests that Primm had stopped making noise when Craddock entered the classroom and only had to ask the boy twice to exit the room.
Primm's father arrived a the office to find his son sitting "quietly" in a chair with his hands cuffed behind his back, the Kansas City Star reported.
"This child committed no crime, threatened no one, and posed no danger to anyone," said ACLU of Missouri Legal Director Tony Rothert in a statement. "Gratuitously handcuffing children is cowardly and violates the constitution."
The ACLU also said the cuffing violated state law, which maintains that use of restraints on elementary or secondary students should only be used in extreme circumstances or emergencies.
The lawsuit says that in 2014, a school spokeswoman said that handcuffing students was one of a "number of methods our staff can use." The ACLU says that the school district was not in compliance with state policies that suggest handcuffs be used only in "extreme situations."
The lawsuit names Kansas City Public Schools, Craddock, and Wallace as defendants, accusing them of violating the boy's constitutional rights against unlawful seizure and excessive force by "unlawfully restraining" him in violation of the 4th and 14th Amendments.
"Setting aside that he was 7-years-old and 50 pounds and no danger to anyone, it is illegal for the government to handcuff and restrain anyone without probable cause that a crime has been committed," Rothert said.
Primm has only returned to public school this year, at age 10. His mother, Tomesha Primm, withdrew him from school following the incident and homeschooled him for two years. She said she is still angry about the incident and wonders why such force was used on her son, who did not act aggressively.
"That someone of that authority didn't have any compassion or try to figure out what the problem was before they did what they did...I don't understand how that was the first resort," Primm said, according to the Star.
The lawsuit calls for compensation and attorney's fees, as well as a requirement that the Kansas City Public Schools implement a training program for school resource officers that outlines the constitutional rights of children.
"It was unfortunate that he had to scream and holler but at the same time I don't feel like a resource security officer should be in authority to deal with a child that needs to be disciplined," Tomesha Primm said. "I feel like it would be more for the teacher to intervene and say, 'Time out.' "
The school district said it would not comment on pending litigation, the Star reported.
According to a 2015 study by the Center for Civil Rights Remedies at the University of California-Los Angeles, the state of Missouri has the highest disparity rate regarding discipline of black and white elementary students.
You can share this story on social media: