School district fires police officer who bodyslammed 6th grade girl in viral video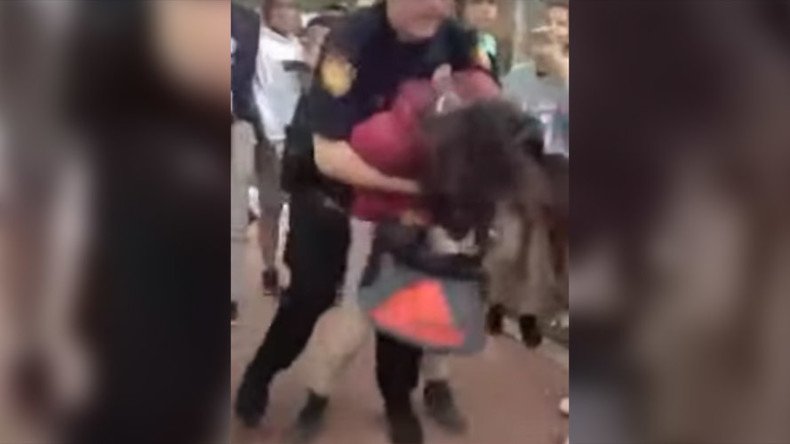 Officer Joshua Kehm no longer works for the San Antonio Independent School District after lifting a 12-year-old girl and throwing her face first onto a brick hallway floor. Administrators said his police report was "inconsistent with the video."
Janissa Valdez wasn't moving when a fellow student asked, "Are you OK?" right after Officer Kehm slammed her and immediately began handcuffing her in the viral video that has already garnered over 2.2 million views.
On March 29, Valdez was about to confront another student at Rhodes Middle School. A crowd was forming, but Valdez claims she was only going to tell the other girl to meet her outside, not start a fight. While Valdez had been in a school scuffle previously, the district found Kehm's use of force to be "absolutely unwarranted," according to a statement accompanying the officer's termination Monday.
"Additionally, the officer's report was inconsistent with the video and it was also delayed, which is not in accordance with the general operating procedures of the police department," the statement read.
"We want to be clear that we will not tolerate this behavior," district superintendent Pedro Martinez added.
While Kehm has been fired, the school's investigation is ongoing. When it wraps up, the Bexar County's district attorney's office will begin its own.
Meanwhile, the Combined Law Enforcement Associations of Texas police union is giving Kehm "whatever legal representation he needs," the union's executive director Charley Wilkison told NBC News.
Wilkison added that the union "is concerned that the department acted before it has had time to fully evaluate all of the facts in the matter."
According to the Texas Observer, the state legislature enacted a law in 2015 mandating school resource officers working in a district of 30,000 or more students to complete a special course that included "de-escalation techniques and techniques for limiting the use of force," but a school district spokeswoman told the Observer that Kehm had only been midway through at the time of his termination.
You can share this story on social media: