SC prosecutor: No reason to charge officer who body-slammed student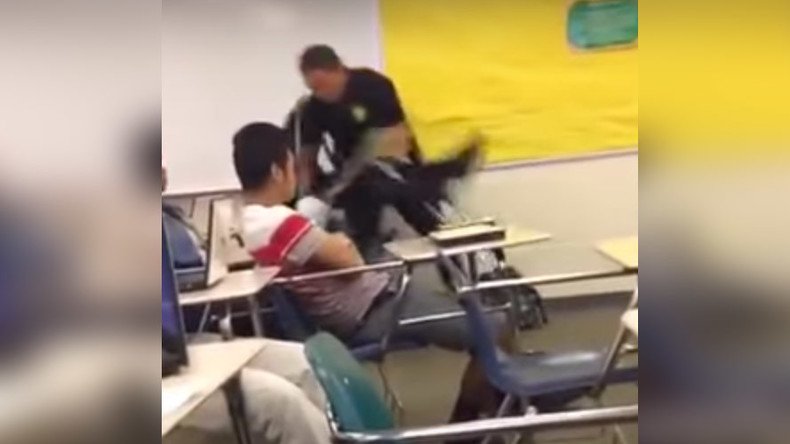 A former sheriff's deputy whose assault of a black student shocked the nation last year, has dodged criminal charges for slamming and dragging the 16-year-old girl from behind a desk. Yet, a prosecutor still believes his firing was "necessary."
A South Carolina prosecutor has decided that no charges will be pursued against former Richland County Deputy Ben Fields, who maintained order at the Spring Valley High School until last year.
Fifth District Solicitor Dan Johnson said he found no reasons for charging Fields, according to local WLTX news, which cited the conclusion.
"..I am unable to conclude that Benjamin Fields' use of force was criminal based not only on his perceptions of the events that occurred on October 26, 2015, but also both the admitted resistance of the student, as well as the subsequent information obtained via the joint FBI and SLED investigative file set as forth, in part, herein," Johnson wrote in a letter responding to the South Carolina Law Enforcement Division's (SLED) Captain John Bishop.
SLED conducted its own investigation and spoke to nearly 20 witnesses.
Fields, who is white, made headlines and caused outrage nationwide after a video of him using force on an African-American student during a school discipline incident was made public in October 2015.
The student-filmed video showed the school officer approaching the girl sitting at her desk. Barely giving her time to respond, Fields grabbed the teenager under her arms and then pulled her up. He then slammed the girl on the floor along with the desk. Fields then is seen dragging her towards the classroom's exit and eventually out of the view of the camera.
The officer was fired in the days following the accident with hundreds of students protesting his removal.
The girl, who Fields body-slammed, and a student who spoke in her support Niya Kenny also faced consequences. Both were charged with disturbing schools, a misdemeanor which is punishable with a $1,000 fine or 90 days imprisonment in the county jail.
However, Johnson has reportedly found no wrongdoing in Kenny's reaction to the altercation between the school resource officer and the student.
"Her objections to the officer's actions do not violate the statute and cannot be proven beyond a reasonable doubt to have 'willfully or unnecessarily...interfere[d] with or to disturb in any way or in any place the students or teachers of ...[the] school," Johnson said.
Hence, the charges against Kenny were dropped, as were charges against the student who was seen in the video, he added.
Johnson wrote the he believes the prosecution of the case as such has been "compromised" by the firing of Fields and administration action taken against the teacher before the SLED's investigation was over.
While the prosecutor found that Fields actions do not "rise to criminal conduct," he has voiced concerns over the "manner" in which the officer handled the situation.
"Put simply, the firing of Fields was both appropriate and necessary," Johnson wrote.
You can share this story on social media: