DOJ orders special training for SC sheriff after viral body-slamming scandal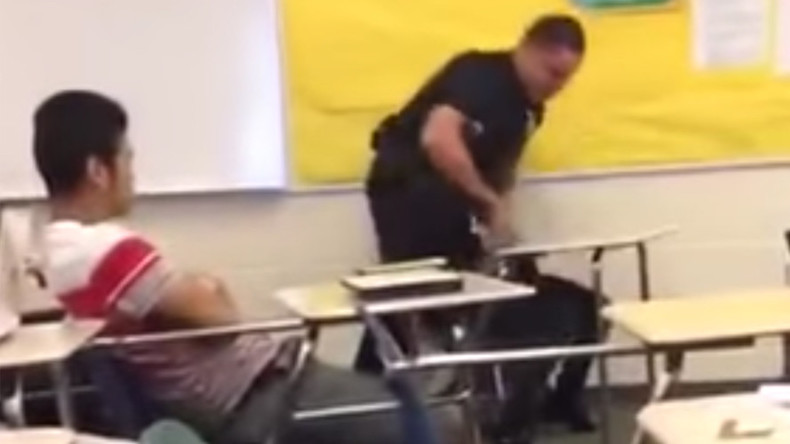 South Carolina sheriff's deputies will undergo annual sensitivity training, under the settlement with the US Department of Justice. The case involved a deputy who body-slammed a 16-year black girl when she refused to give up her cellphone.
In a video recorded in May 2015, Ben Fields – a white deputy assigned to the school, is seen wrapping his forearm around a black girl's neck, flipping her and her desk backward onto the floor, and tossing her forward before handcuffing her. The girl had allegedly been asked to leave the classroom, and had refused. The recording became a shocking, viral sensation.
Under the DOJ agreement, Richland County has to provide intensive annual training for deputies working in more than 60 schools "on how to de-escalate situations, avoid bias, and interact properly with disabled students."
The agreement settles a civil rights review which focused in part on complaints and arrest patterns, according to a DOJ letter sent to Richland County Sheriff Leon Lott, AP reported.
"That's an incident we have to live with but it doesn't define us," Sheriff Lott told reporters on Thursday, adding that the DOJ is "helping us out."
A separate DOJ investigation into another confrontation between Fields and a student at Spring Valley High is ongoing, and has not resolved by this agreement.
Fields was fired after footage of the body-slamming incident surfaced. Last October, CNN reported that he had been sued for excessive force in the past, and accused of racial bias.
Under the current agreement the sheriff's department was told to focus on criminal conduct, so their "duties shall not include involvement in classroom management or school discipline matters that should be appropriately handled by school staff."
The federal agency called the settlement, which went into effect on Friday, part of its effort to stem the "school-to-prison pipeline."
In a related story, the American Civil Liberties Union sued South Carolina in federal court on Thursday over what it calls the criminalization of normal adolescent misbehavior. The lawsuit challenges the state's "disturbing schools" and "disorderly conduct" charges as unconstitutionally vague.
The ACLU wants the courts to stop the state charging students in kindergarten through 12th grade under the "disturbing schools" law. The civil rights group has said that over 1,700 students were referred to the Department of Juvenile Justice under the law in 2014, and 71 percent of them were black.
"These types of adolescent behavior should never be met with arrest," ACLU's Sarah Hinger told AP.
Hinger said such criminal charges reduces a student's likelihood of graduating and steers them towards "ongoing involvement with the criminal justice system."