Omaha school cop investigated for excessive use of force in breaking up fight (VIDEO)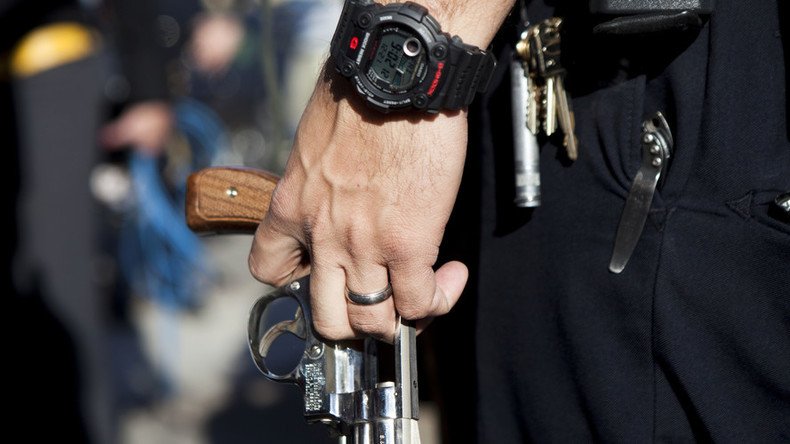 An Omaha police officer is under investigation for using excessive force after he struggled to break up a school fight and ended up punching a student several times in the face, while he was in a chokehold. Police say it's too early to assign concrete blame.
A shorter version of the incident posted online was followed by longer footage, with both now being investigated.
According to his statement, officer Nicholas Caniglia arrived at the scene as the fight was in full swing. A school guard was reportedly having trouble separating the two students, one of whom had attacked the other in the hallway of Millard school.
Witnesses say the altercation was over within 15 seconds of Caniglia's arrival, about 50 seconds into the fight; but accounts differ as to how it ended. Caniglia alleges he was punched in the process of stopping the fight, and says the same thing happened to guard Tim Kimpson. Others, however, only see police cruelty, evidence of which also emerged in the shorter video posted earlier to Twitter, accompanied by the caption: "Make this go viral school police officer punches student multiple times who wasn't swinging at Millard south."
The longer version doesn't give the viewer too much to work with, but Omaha police are saying it warrants further investigation. In both versions, it is difficult to determine what is happening on Caniglia's left side, and whether his hitting the student in the face could have been avoided.
The first video "showed a 15-second snippet of an apparent large fight but failed to capture the incident in its entirety… We are looking into what precipitated the officer's actions and if they were appropriate considering the totality of the circumstances," Officer James Shade said, according to Omaha.com.
Caniglia has now been reassigned to another post while the investigation is underway. He has been with the force since July 2000.
READ MORE: Virginia county closes schools over Arabic calligraphy homework
According to KETV, the cop filed two reports – one of them public, which alleges that both he and Kimpson were struck as they attempted to separate the students. The punch occurred to the left side of his face – which is the side the viewer can't see.
Caniglia wrote that he "attempted to break up the fight," but the public report doesn't say much more.
The students' role is also being examined. One received a ticket for suspected misdemeanor assault. His name is not being divulged, as is custom in cases involving juveniles.
"We are disappointed these students chose to fight. We are grateful no students or staff were seriously hurt. We see the videos you see. We have begun and will continue our investigation," a statement released by the school to NBC says.
This is the second time in two months that a school resource officer has been implicated in a violent altercation involving the use of force against a student. The last was in late October and involved an officer in a South Carolina school flipping a student's desk over in order to drag her out of class.
You can share this story on social media: