Commute from hell: Metro station blocks from White House evacuated due to fire on tracks (PHOTOS)
Published time: 23 Sep, 2016 21:16
Edited time: 25 Sep, 2016 13:32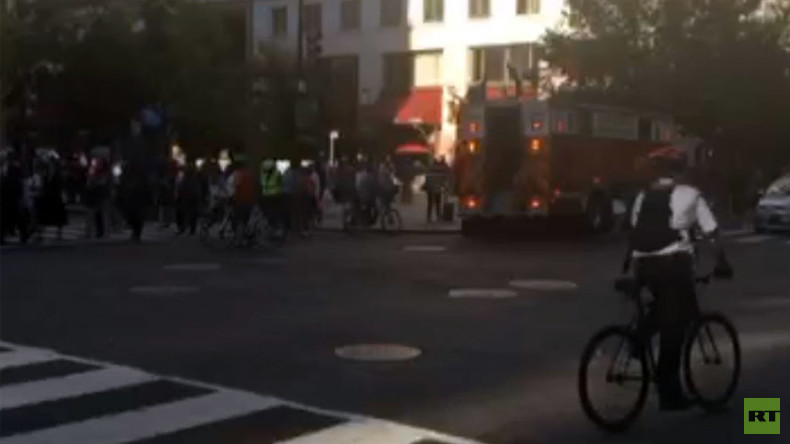 The main hub of the Washington, DC subway is being evacuated due to smoke during the busy rush hour commute. Tweets show a flame between the track and the electrified third rail, with some filling the tunnel out of Metro Center.
Trains will turn back and will not service the station, which is in the middle of downtown DC.
The fire is on the lower level of the transit hub, along the Blue/Orange/Silver lines heading west to Virginia. The upper level, serviced by the Red Line, is also being evacuated.
The fire was caused by an arcing insulator, a continuing source of problems for the Metrorail system.
Some customers have complained that the Washington Metropolitan Area Transit Authority (WMATA) is still requiring riders to swipe out of the system with their farecards, instead of opening the gates.
Buses have been requested to replace trains between Federal Triangle and McPherson Square.
Friday evening's commute was already set to be horrific, with road closures due to the grand opening of the Smithsonian's National Museum of African-American History and Culture. The brand new museum is located four blocks from Metro Center.
Less than 20 minutes after the fire started, the station was reopened.
WMATA, the agency that runs Metro, is in the second phase of a year-long safety "surge" dubbed "SafeTrack."
The fire came almost exactly three months after the last fire, which also occurred at a major hub, the Gallery Place station.
Electrical problems and fires seem to have become a regular occurrence over the past year and a half, causing massive delays and service interruptions throughout the system.
After a "fireball" caused by debris on the tracks was caught on camera on May 6, the Federal Transit Administration (FTA) ordered WMATA to conduct daily inspections of the tracks, and use less power by reducing the number of rail cars in service and slowing down the trains.
Construction on the Metro began in 1969, with the first stations opening in 1976. The last of the original stations was brought online in 2001. Decades of neglect and a major design flaw have translated into rocky service, however. Partly due to the immense cost of excavating under the city, the DC Metro has only two rail tracks throughout most of the system, with no room to divert trains that experience problems.
Metro's new management is trying to make up for that neglect, but argues that keeping the system in service will require both time and dedicated federal funding.
The system is currently in the middle of it's ninth surge project, with continuous single tracking between the Vienna and West Falls Church stations in Virginia, as well as shut downs of that segment on weekends. The project began September 15, and is set to end on October 26. It is the longest of the surges planned so far.