DC Metro station fills with smoke amid surge of safety fixes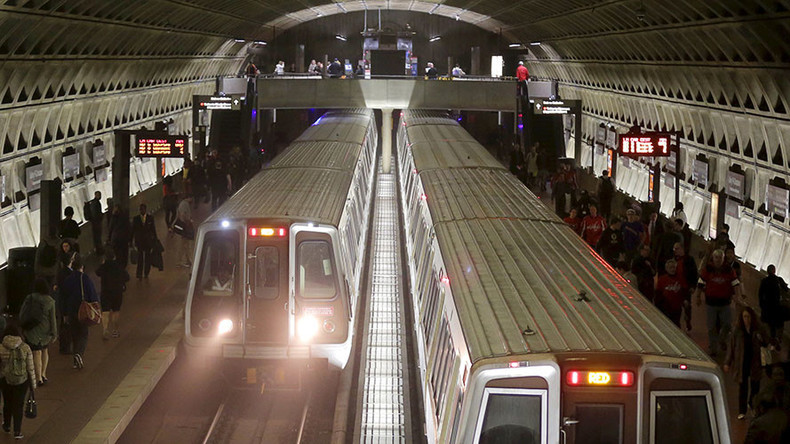 Fire is filling one of the busiest connection points in the DC Metro system during rush hour. The smoke appears to have begun in the lower level of the Gallery Place Metro station in downtown Washington, DC and risen to the main level.
The lower level contains Yellow and Green line trains.
.@wmata Gallery Place platform is now filling with smoke. No one is directing people or giving updates — what's up?

— Megan Cagle (@megcagle) Jun 27 2016
The main level serves Red Line trains.
The smoke appears to be the result of a "track-side fire," WUSA reported. Delays are expected on the northbound Yellow and Green lines towards Mt. Vernon Square and Greenbelt, according to the Washington Metropolitan Area Transit Authority (WMATA).
The station, one of three major Metro transfer hubs, is being evacuated. Green and Yellow line trains are bypassing Gallery Place.
The Green Line is experiencing higher-than-normal ridership due to a Washington Nationals home game against the divisional rival New York Mets.
DC Fire and EMS is on the scene to assist Metro personnel with "smoldering debris" and "minor smoke," the agency said.
WMATA, the agency that runs Metro, is in the second phase of a year-long safety "surge" dubbed "SafeTrack." Currently, the Orange Line is closed between the Minnesota Avenue and Eastern Market stations, while the Blue and Silver lines are closed between the Benning Road and Eastern Market stations.
Metro's new management is trying to make up for decades of neglect, but argue that keeping the system in service will require both time and dedicated federal funding.
Construction on the Metro began in 1969, with the first stations opening in 1976. The last of the original stations was brought online in 2001. Years of neglect and a major design flaw have translated into rocky service, however. Partly due to the immense cost of excavating under the city, the DC Metro has only two rail tracks throughout most of the system, with no room to divert trains that experience problems.
Money that was allocated to maintenance was spent instead on salaries and other items in the operating budget, which has been dependent on multiple local jurisdictions and coming up short.
Monday evening's fire comes hours after WMATA General Manager and CEO Paul Paul Wiedefeld announced the agency would eliminate 500 jobs as a cost-cutting measure.
"Effective today, the Office of Management and Budget will provide department heads with a list of non-safety critical, non-essential vacant positions that are being eliminated," Wiedefeld wrote in a letter to the staff, according to WRC.
READ MORE: DC Metro 'fireball' portends service Armageddon
WMATA will identify "redundant" positions, as well as those that are "not deemed essential to Metro's core business," the letter said.