National embarrassment: DC Metro ponders shutting down for repairs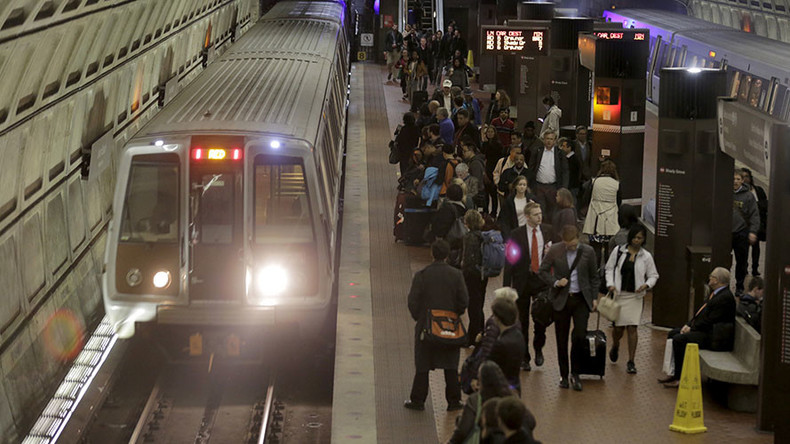 Federal officials have threatened to shut down the Washington, DC Metrorail over myriad safety issues, such as electrical fires. While Metro plans a year-long "safety surge" of repairs and calls for dedicated funding, area residents are bracing for pain.
The 40-year-old system serves over 700,000 riders a day, and set the record with over 1.12 million riders in January 2009, for the inauguration of President Barack Obama. Six months later, a faulty sensor resulted in the collision of two Red Line trains, killing nine people and injuring more than 70. A 61-year-old woman died from smoke inhalation in a January 2015 fire.
Electrical problems and fires seem to have become a regular occurrence over the past several months, causing massive delays and service interruptions throughout the system. The government is now demanding the Washington Metropolitan Area Transit Authority (WMATA) shape up – or shut down.
After a "fireball" caused by debris on the tracks was caught on camera on May 6, the Federal Transit Administration (FTA) ordered WMATA to conduct daily inspections of the tracks, and use less power by reducing the number of rail cars in service and slowing down the trains.
"I could go on for a long time detailing Metro's problems," Transportation Secretary Anthony Foxx told the Washington Post. "The culture of safety is not where we want to see it."
Metro's new management is trying to make up for decades of neglect, but argue that keeping the system in service will require both time and dedicated federal funding.
"All I'm asking from you is $300 million, which is your fair share, given the fact that we transport 50 percent of your workforce every day," DC Councilman Jack Evans, who chairs the WMATA Board of Directors, told the House Oversight and Government Reform committee at an April 13 hearing. "You want them to be safe. You want this to be reliable."
Evans also called the system an embarrassment to the nation, compared to "world-class" systems he saw in Beijing, Shanghai, Paris, London and Moscow.
"Those are all communist countries!" Representative Mark Meadows (R-North Carolina) replied.
Just hours before the Department of Transportation issued its directive, Metro's new CEO and general manager, Paul Wiedefeld, unveiled an ambitious overhaul program. Dubbed "SafeTrack," the plan aims to fix the maintenance problems through fifteen "safety surges" over the course of a year. It would also include shutting down entire stretches of the track for days and even weeks at a time, and closing the system earlier on weekends, potentially impacting tens of thousands of area residents who depend on the Metro for work.
"It has taken decades, to be frank, of deferred maintenance and investments just not being made and we cannot wait any longer. We have to deal with these issues," Widefield told CNBC's Power Lunch on Tuesday. "This is a multi, multibillion-dollar investment that has not been maintained over time."
Construction on the Metro began in 1969, with the first stations opening in 1976. The last of the original stations was brought online in 2001. Years of neglect and a major design flaw have translated into rocky service, however. Partly due to the immense cost of excavating under the city, the DC Metro has only two rail tracks throughout most of the system, with no room to divert trains that experience problems.
"Starting in the mid-1990s, maintenance was deferred over many years and many general managers," Martin Di Caro, WAMU's senior reporter covering Metro, told RT.
Money that was allocated to maintenance was spent instead on salaries and other items in the operating budget, which has been dependent on multiple local jurisdictions and coming up short.
"Metro does not have a sustainable funding source for its operating budget," Di Caro explained. While the federal government covers WMATA's capital expenses – such as new cars, track and stations – the operating costs are borne by the District, Maryland and Virginia.
In addition to the District, the Metro serves the suburban Loudoun, Fairfax and Arlington counties in Virginia, and Montgomery and Prince George's counties in Maryland. None of the jurisdictions have been willing to commit a dedicated stream of funding to WMATA, however.
Metro has tried to make up the deficit by raising fares in 2014, but that has resulted in decreased ridership. The complex fare structure ranges from between $1.75 and $3.60 per trip during regular hours and $2.15 and $5.90 during rush hour, depending on the distance traveled.
Some area residents are alarmed at the news that WMATA has sought financial advice from Kevin Orr, former emergency manager in Detroit, Michigan, known for advocating privatization. Calls to privatize the system, fully or in part, have also come from the libertarian Cato Institute and can even be found in the Washington Post.
Washingtonians have already had a taste of what life without Metro might look like. Widefield ordered the entire system shut down for safety inspections on March 16, after a track fire at one of the stations reminiscent of the deadly 2015 incident.
"The bottom line about SafeTrack is, from June to next March, commuters are being asked to find other means to get to work, because Metro is going to be unreliable," WAMU's Di Caro told RT. "It's going to be a very tough year."