Boxing promoter Don King uses 'N-word' at Trump's African-American outreach event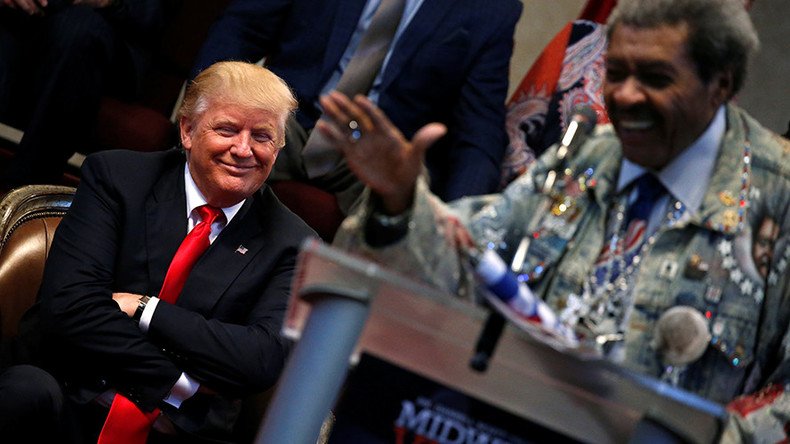 Controversial boxing promoter Don King has taken his talents to the Trump/Pence campaign, introducing the Republican presidential ticket at an outreach event in an Ohio church ‒ where he promptly made waves by dropping the "N-bomb."
Donald Trump and his surrogates have been beset by accusations of racism throughout the billionaire's campaign, but Trump is trying ‒ often with less-than-spectacular results ‒ to shore up support from the African-American community. On Wednesday, such an attempt took him to a Cleveland Heights church for an outreach event with black pastors.
King, an African-American Cleveland native, was introduced by vice presidential candidate Mike Pence. During King's remarks introducing Trump, he relayed a story about discussing assimilation with pop star Michael Jackson.
"I told Michael Jackson, I said, 'If you're poor, you are a poor negro ‒ I would use the N-word ‒ but if you're rich, you are a rich negro. If you are intelligent, intellectual, you are intellectual negro. If you are a dancing and sliding and gliding n***** ‒ I mean negro ‒ you are a dancing and sliding and gliding negro'," King said. He then laughed, as did the crowd. "You're going to be a negro 'til you die."
Trump appeared to smirk in the background as King used the epithet. People on Twitter couldn't decide which was worse: King using a racial slur – or Trump's facial expression when he did it.
Many on social media decided that the two controversial men with bad hair were just two peas in a pod.
King gained notoriety outside his boxing promotion career thanks to his non-negligent manslaughter conviction in 1966 for killing one of his employees. He was also controversial due to his possible connections with organized crime and for reportedly underpaying or cheating boxers out of their money, including Muhammad Ali and Mike Tyson.
Tyson, infamous in his own right, once described King as "a wretched, slimy, reptilian motherf***er. This is supposed to be my 'black brother', right? He's just a bad man, a real bad man. He would kill his own mother for a dollar. He's ruthless, he's deplorable, he's greedy... and he doesn't know how to love anybody."
Trump asked King to introduce him at the event, the New York Times reported. The billionaire was also joined by several of his prominent African-American surrogates, including former GOP presidential candidate Ben Carson and former 'Apprentice' star Omarosa Manigault.
In his remarks, King also called Trump the candidate of "inclusiveness" and a "doctor of humanness" who looks out for white women and black Americans who "don't have rights. Those are the left-outs."
"Donald Trump says no, we are going back to inclusiveness," King added.
Later Wednesday, King flew with the Republican ticket to Toledo, Ohio, where the boxing promoter introduced Pence.
You can share this story on social media: