Thousands pay their respects to 'The Greatest' Muhammad Ali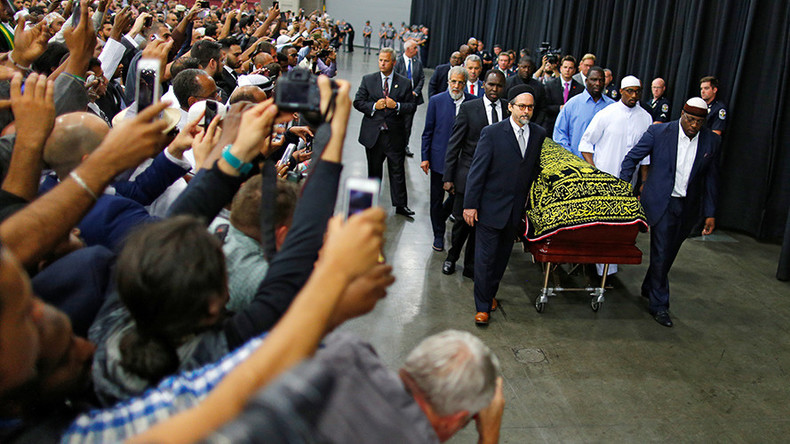 Thousands of people descended on Louisville, Kentucky, on Thursday to pay their respects to boxing legend Muhammad Ali.
The two-day remembrance event began with a traditional Islamic prayer service at the famous Freedom Hall arena.
Ali had insisted before his death that his funeral be inclusive to all people, so in addition to family and friends, including Sugar Ray Leonard and Don King, there were over 14,000 admirers in attendance.
His friend, Talut El-Amin, who was part of Ali's entourage, said: "It was important to him to have people from all walks of life.
"The Christians put him where he was – they bought his tickets at first, not the Muslims.
"So he wanted to have a Christian and Muslim ceremony."
Imam Zaid Shakir, a leading US Muslim scholar, addressed the crowd at the start of the memorial event.
"We welcome all of you here today – we welcome the Muslims, we welcome the members of other faith communities, we welcome the law enforcement community," he said.
"We welcome our sisters, our elders, our youngsters. All were beloved to Muhammad Ali."
Civil rights campaigner and former presidential candidate Reverend Jesse Jackson was also there, and he praised Ali after the service for the way he used his fame in a positive manner.
"He turned scars into stars. Instead of getting bitter, he got better," said Jackson, in a nod to Ali's ability to use rhyme to make his point.
READ MORE: 'Just the greatest boxer': 11 memorable quotes from boxing legend Ali
In addition to the thousands of people at the prayer service, hundreds more gathered at Ali's childhood home to pay their respects.
The house was turned into a museum in 2013 and restored from ruin.
Flowers and balloons adorned the front of the pink house where Ali grew up with his younger brother Rahaman.
Friday's funeral procession will see Ali's body carried through downtown Louisville and along the same street as the parade that celebrated his 1960 Olympic gold medal victory.
"Last time he took that route he had a gold medal but couldn't buy a hamburger at diners in downtown Louisville," Jackson said.
"But he used his mastery in the ring to reject the inequality among humanity."
Former British world heavyweight champion Lennox Lewis and the actor Will Smith, who portrayed Ali in the 2001 film, will be pallbearers at the funeral.
Speakers at the service will include ex-US President Bill Clinton and actor Billy Crystal.
READ MORE: Obama won't attend Muhammad Ali funeral
While the majority of the world has mourned the loss of 'The Greatest', others have tried to cash in on Ali's death by selling tickets for his funeral.
Tickets were reportedly available on numerous online sites with one asking for $100 each. Around 15,000 people are expected to attend on Friday.
Ali's family spokesman Bob Gunnell said: "I'm personally disgusted and amazed that someone would try to profit off of Muhammad Ali's memorial service.
"I hope that those buying tickets or trying to buy tickets would stop those efforts by not purchasing.
Read more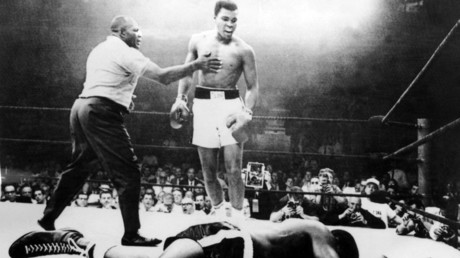 "Muhammad Ali wanted this to be a free event, an event that was open to all.
"Frankly, this activity is despicable."
The legendary boxer passed away last Friday in a Phoenix hospital after suffering a septic shock due to unspecified natural causes.
The three-time world champion, who had fought Parkinson's disease for over 30 years, had been admitted to hospital with a respiratory condition.
The funeral service will start about 1pm central time, and will be streamed live on the internet.